The great events are back at the Mostra d'Oltremare: the Olympic swimming pool officially reopens to the public.
On Friday 16, it will be the turn of the Pizza Village, while starting from Saturday, 17 June, the spectacular Olympic swimming pool will shine again from 9:30 a.m.
It will be a major attraction for tourists and Neapolitan citizens alike.
Thanks to its 50-metre by 6-metre depth, 2,000 square metres of solarium, refreshment bar and areas for disabled people, it can accommodate around 500 visitors per day.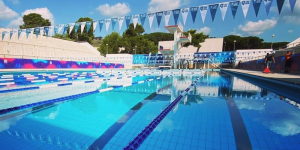 With the reopening of the pool and the numerous spaces available for citizens, we will be moving toward an exhibition open to tourists and citizens, always at the service of the community. These are the words of Maria Caputo, delegated councillor of the Exhibition.
"'The promotion of sport is in the very statute of the Mostra d'Oltremare di Napoli (one of southern Italy's largest exhibition, fair and trade complex). Therefore, the reopening of the swimming pool brings together one of the elements of the Mostra's vocation", says Mostra d'Oltremare president Remo Minopoli.
For further information and reservations, please visit the Mostra d'Oltremare's website or the 'Cocobuk' app, where you can purchase admission tickets for the Exhibition.
It promises to be a significant event for Neapolitan citizens and the many tourists who flock to the city."