A historic location for a unique, exclusive and luxury-packed event: the Pietrarsa National Railway Museum in Portici, in the province of Naples.
Inside the main pavilion, among vintage locomotives, coaches, machinery, railway models and scale models, stylist Alessandro Legora presented his Spring Summer 2024 women's collection. It is conceived for a proud, self-confident, beautiful, romantic, majestic, sensual and sophisticated woman.
A fashionable occasion to celebrate Alessandro Legora's style
Style, elegance and art merged for a stunning Legora Fashion Show, a much-awaited fashion glamour event you cannot miss.
A pleasant aperitif in the Museum's outdoor spaces among the green, the sea, a beautiful sunset and lots of good music broke the ice: a moment designed to welcome guests and guests in the best way possible, to put them at ease and to allow them familiarity and conviviality.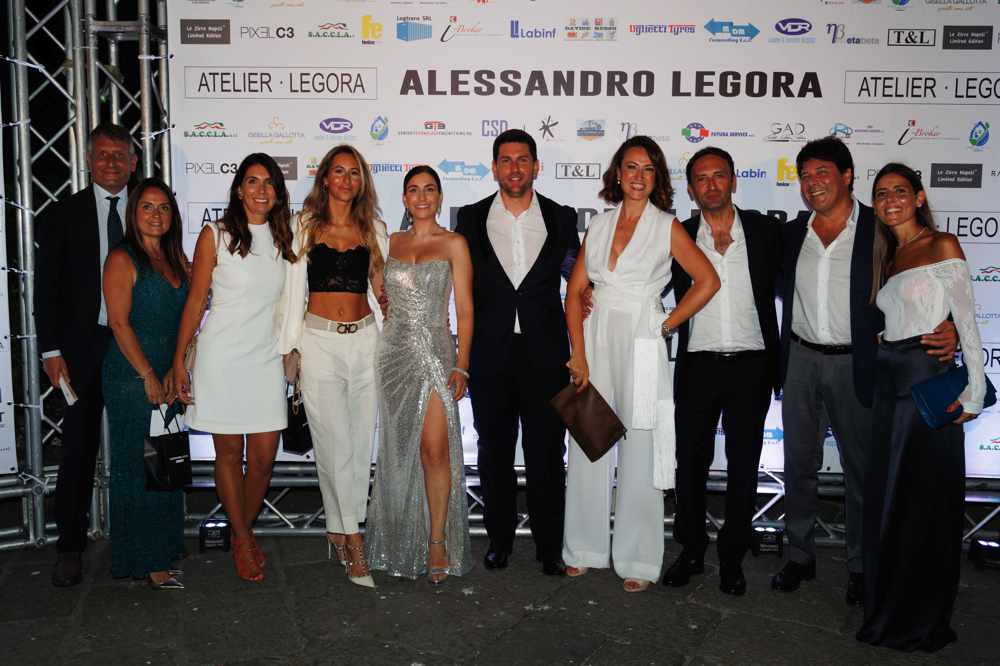 Industrialists and Institutional Representatives
Immediately afterwards, in the presence of the Mayor of Naples, Gaetano Manfredi and industrialists and outstanding personalities from Institutions including Ciro Fiola, President of the Chamber of Commerce, the Honorable Stefania Covello and President Pasquale Legora De Feo, Alessandro Legora and Atelier Legora's fashion lines were presented. The designer has won the complex challenge of telling the story of the feminine universe through constant stylistic research and harmony of forms enhancing women's innate elegance.
Legora's research among colors, sequins and ostrich feathers
A whirlwind of colors, veils, sequins, ostrich feathers, various length gowns, suitable for all circumstances, worn by professional and charismatic models. They caught the attention of the many guests who followed amid admiration and surprise, showing their appreciation with thunderous and non-stop applause.
If vivid colours characterized Spring Summer 2023, for next summer, there is a need to recover a never-predictable sobriety in colours and designs.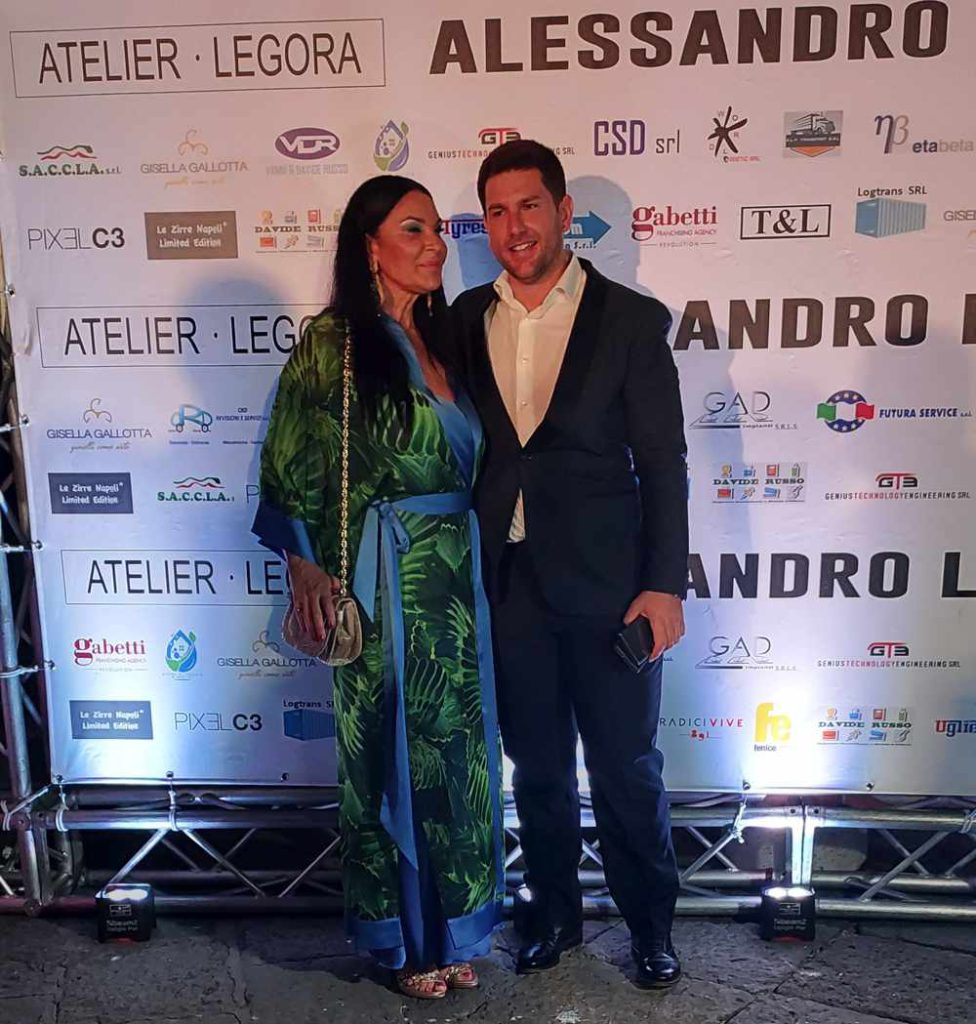 Time-less black and white in their wonderful opposition, like myste-ry merg-ing with purity. Then if you combine them to compose optical striped prints, the match is reached. Rampant white on a jersey base, a fabric loved by women because it is sinuous, enveloping proposed on sheath dresses with sculptured straps, glove sleeves, and super feminine necklines.
Then there is black in shantung fabric embellished with crystal-coloured bezels and sculptural designs. Significant space was given the exclusive prints made especially for Legora in Como, the home of silk, starring flowers that hark back to a nostalgic Orient, enriched with colorful bangs.
Moreover, guests appreciated the original evening kaftan and a new interpretation of the shawl worn as a skirt with a masculine chiffon maxi shirt that allows a glimpse of the shape without falling into vulgarity.
In addition, ostrich feathers play on tunics, dust jackets and dresses with vertiginous slits. Fabric is dear to Legora's heart and is embroidered in sequins in silver, gold and royal blue shades.
Another key colour is green, ranging from yellow-green to forest green, blazers made with inset shoulders, jewelled buttons, and dreamy dresses with sculptured bows. Pearl effect, sugar paper, coral, peach, bubblegum, purple, wisteria and hot pink also stand out.
Atelier Legora's Bride
Closing the show was Atelier Legora's Bride, Alessandro Legora's second label for Haute Couture and ceremony, just one of the dresses presented for the day of the "yes", precious, dreamy, pistagna collar and long sleeve in Grace Kelly style, bodice entirely hand-embroidered with small flowers composed of pearls and lace, branched on the vaporous tulle skirt, 10-meter long veil completely edged and embroidered with the same embroidery as the bodice.
Twist of the evening, the launch of the baby girl ceremony line. The wedding dress was reproduced in miniature and worn by the Neapolitan couturier's little daughter, who modelled shyly in the bride's arms.
Stars and celebrities from show business attending Legora's Party
Numerous guests attended the Legora's Party, from professionals, retailers, well-known names from the Neapolitan press and famous personalities from show business as well Alessandro Legora's friends, including Pamela Prati, Denny Mendez, Caterina Milicchio, Manila Nazzaro, Elisa D'Ospina, Matilde Brandi, Milena Miconi, Angela Melillo, Lavinia Mauro, Marina Tagliaferri, Antonella Prisco, Giorgia Gianetiempo, Luisa Amatucci, Maria Guerriero, Floriana De Martino and Luisa Esposito, Lorenzo Crea, Director of the Magazine InItaly, and Eduardo Angeloni, film businessman. The evening continued with an open-air dinner party in an exceptional setting on the Museum's sea-facing terrace.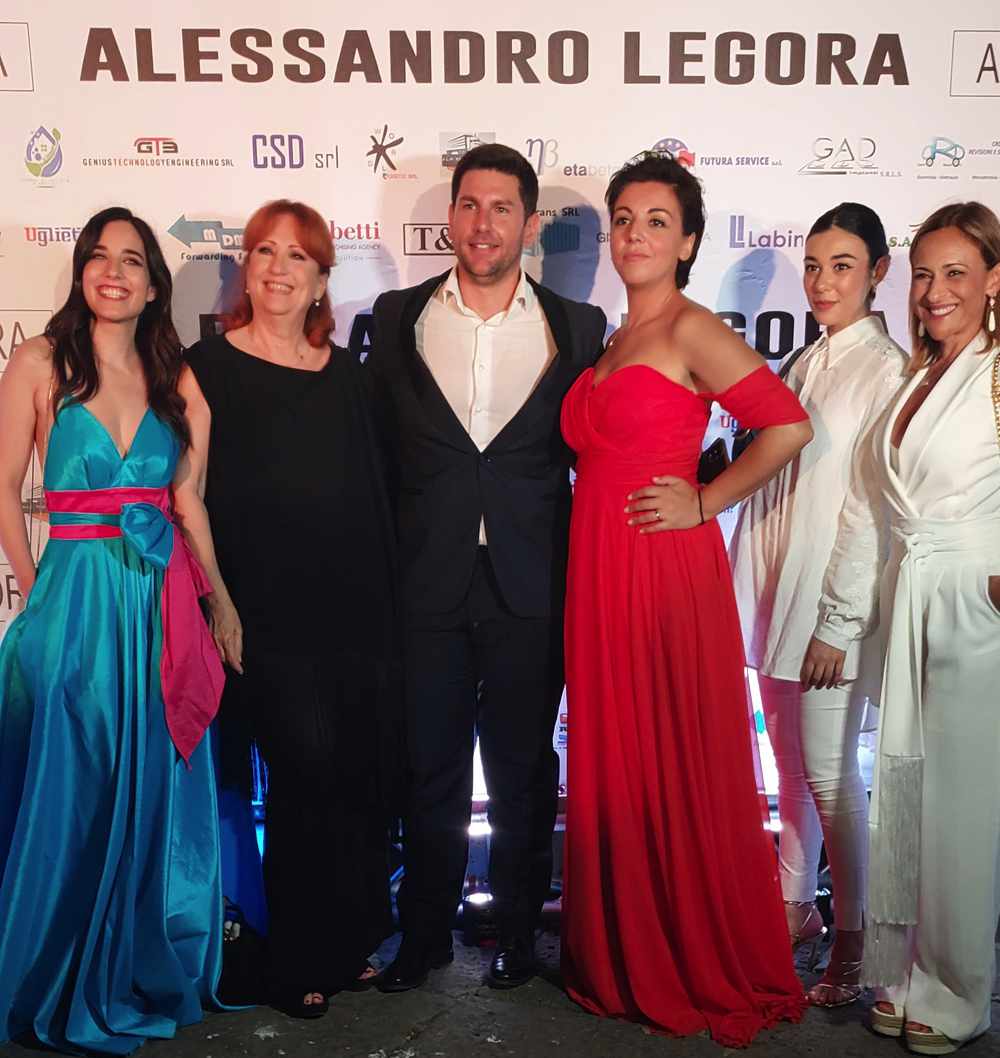 A 100% made in Italy product between past and future
Many upcoming goals:
The upcoming opening of a store in Piazza dei Martiri in addition to the store dedicated to bridal and haute couture fashion.

The expansion of the maison's operational headquarters.

New bridges "launched" over Milan and abroad. 
"Nowadays, the designer's role has become particularly complex. I am aware that even before the product, we must believe in ourselves to win the trust of our collaborators and buyers. It is necessary to be clear where I started, who I am today, and where I want to go with the product I am presenting and on which I place the utmost trust," said Alessandro Legora, whose brand was born in 2010 with a 100% made in Italy product and the ambition to become an Italian prêt-à porter collection. – I stated long ago that fashion must address all types of physicality, and I confirm this firmly and proudly. My clients ranges in age group and physicality, and I can guarantee that my women are all wonderfully energetic and magnetic. With a hint of presumption, I understood long ago how to make a collection versatile without distorting its stylistic DNA", the Neapolitan stylist concluded.
"Naples has a huge and ancient tradition of craftsmanship in fashion, both in men's and women's styles and accessories. There are many young and good stylists, who should be supported, fashion is a great potential of the city. People coming to Naples would like to experience it not only for its architectural and natural beauty but also for its craftsmanship, its food and its music. Fashion represents an important identity resource and should be cultivated. Moreover, combining Pietrarsa, where there was the first steam train in Italy, with a fashion show of a young and established fashion stylist was a great idea. We wanted to merge the great past of Naples with the future made by our young talents", declared Mayor Manfredi with satisfaction.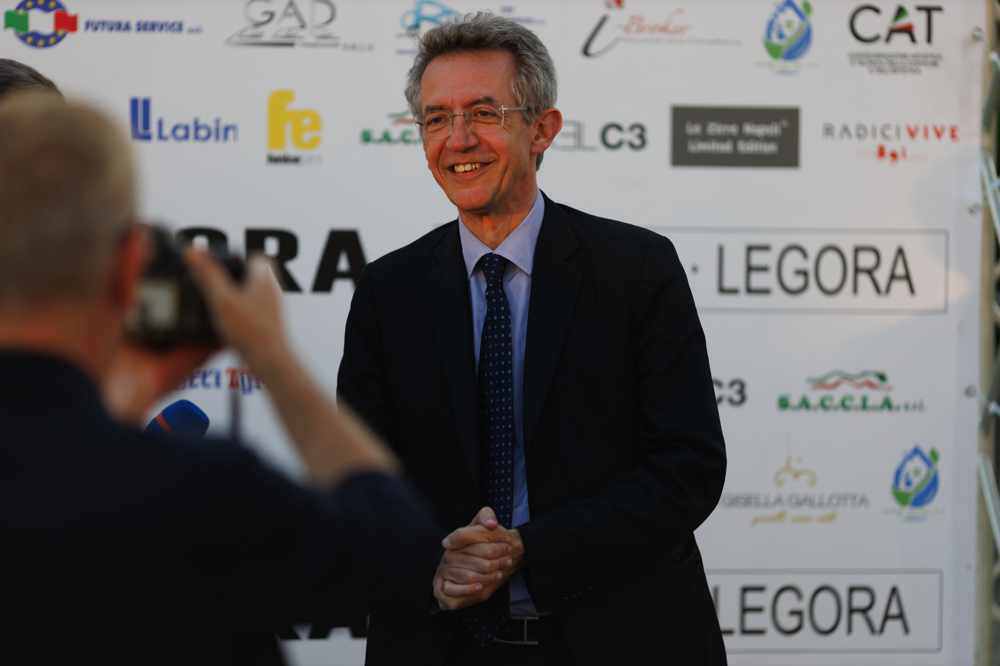 Legora's elegance mirrors all women
"I choose Legora because of its elegance: it's amazing, excellent and satisfies all tastes. It naturally dresses young and mature women. With his clothes, you feel comfortable. I also choose them for my shows, where I can dare more," – Monica Sarnelli said.
"Tonight I chose red, a shade that wears well. I love intense hues. I cared to be here; every Legora event is a pleasure. You feel great! We are always welcomed with love; wearing his clothes, you can be elegant being casual and at ease being elegant," – Antonella Prisco said.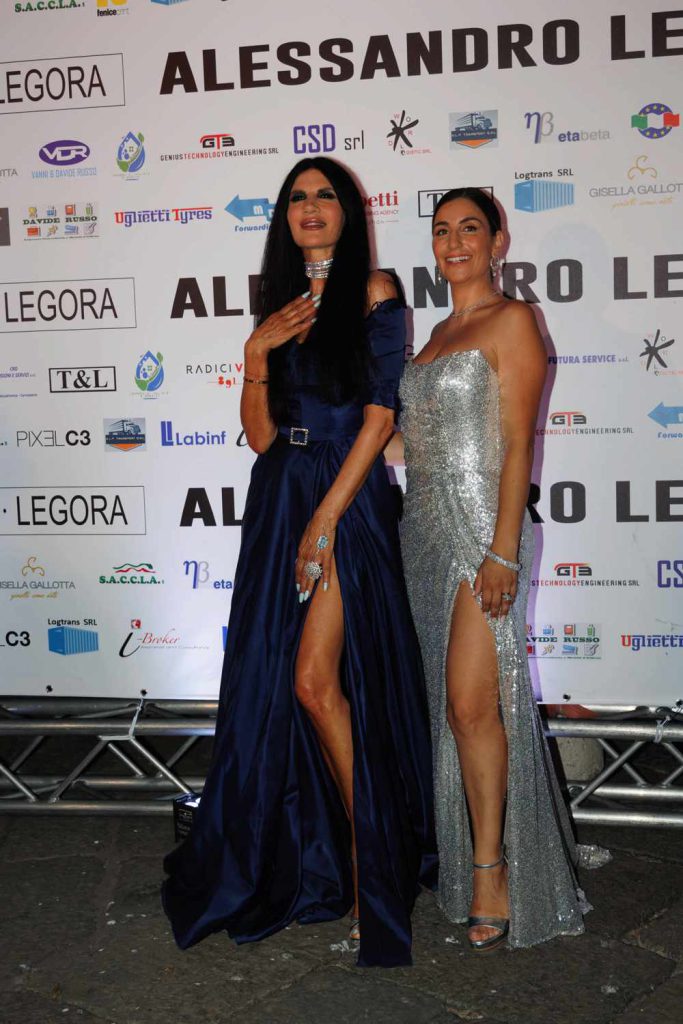 " 
"Legora not only reflects me but all women in their infinite diversity. He enters the heart and soul of a person; he reflects her in colours, style, shapes and lines. Tonight I am wearing a dress that is just in my mood. I love the romantic style,"– added Gina Amarante.
"Legora is a complete stylist and pleases the woman in all aspects; I've been following him for ten years. I've always been there except last year when I was on my honeymoon. "Tonight, I'm wearing a kimono, oriental style. I fell in love with it right away," – exclaimed Rosa Miranda.
"Everyone chooses Legora because he is an extraordinary and important entrepreneur; we love to be fashionable, his garments are fantastic and unique, and we like everything from him. We don't go out much, but we never miss these events. We are happy to be here," – Floriana De Martino and Luisa Esposito emphasized.
"Legora is something unique, he dresses women in a feminine way, his clothes are amazing. When I wear them, I feel even more like a woman, each of his dresses has a special magic, a special soul. I prefer colours like blue, emerald green, white, red, black, I adore elegant dresses and coats are beautiful too," –  the sensual Pamela Prati said.
"Legora dresses women in such an exceptional way. Every time the dress is perfect and tailored just for you. Alessandro always manages to transform women in so many different ways," – Milena Miconi added.
"Legora perfectly combines elegance and style. Alessandro is an extraordinary man. It is a pleasure to work with him. He also makes me daring, I love red and black, but tonight I am wearing green," –Manila Nazzaro declared.
"I have been following Legora for a long time, he is Neapolitan, an artist and I like him very much. I love black and white, but the colours are also beautiful. Alessandro has a great style and makes you feel at ease at all times, in all circumstance" –Luisa Amatucci pointed out.
"Legora is fantastic, has impressive creativity, and matches all his clothes perfectly to people's personalities. I love his motifs and colours. I generally choose clothes according to the mood of the day.
As for colours, for example, if I feel nervous, I wear black, while when I am happy, I wear yellow," –  Giorgia Gianetiempo stated.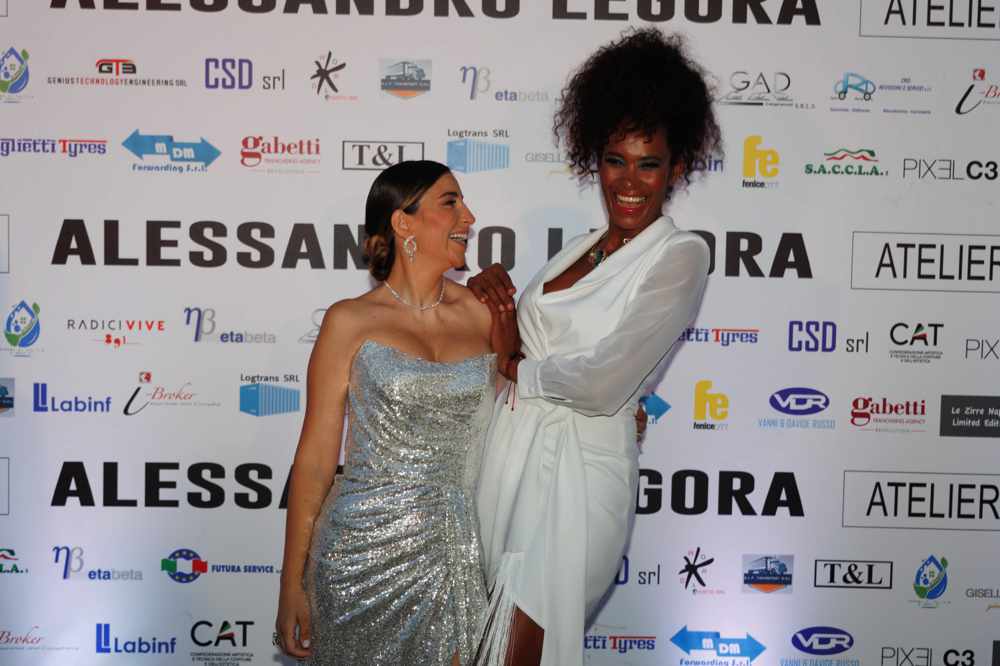 "I like promoting good young stylists, Italian. Legora stands for elegance, flair, and creativity; women can choose the desired garment. Tonight I am wearing a short, leg-enhancing white garment. I wanted to send a message: for me, white symbolizes peace and purity, which is lacking in the world. I also like pastel colours, lilac, for example, looks great on my skin tone, I also love cocktail outfits" – Denny Mendez concluded.