Among other outstanding personalities, Carolina Morace attended the event held on 21 June at Lisa Cecere's striking Nathan Club Eventi location in Villaricca, in the province of Naples.
Oscar Campano as a tribute in memory of Pasquale D'Angelo
We are talking about the 19th Oscar Campano 2023 in memory of Pasquale D'Angelo, conceived by the well-known sports journalist Nello Odierna: an evening for charity. The funds raised went to the children of the Laila Centre in Castel Volturno, in the province of Caserta. This non-profit organisation looks after over 40 children, immigrants and Italians, in need of care daily.
During the event, sports, social and entertainment personalities were awarded prizes for their outstanding achievements this year, including Carlo Alvino, Raffaele Carrella, Manuel Parlato, Massimo Sparnelli, Antonio Petrazzuolo, editor of Napoli Magazine, Luca Cerchione, Ciro Novellino, who was awarded both for his work for CalcioNapoli24 and as Juve Stabia's communications manager, Salvio Passante, Diego Marino, Decibel Bellini, Angelo Di Gennaro and Lello Marangio.
Carolina Morace honoured with Campania's Oscar for Sports
The only non-Campania-born awardee to receive the prestigious prize was Venetian Carolina Morace. She was welcomed with much affection and admiration and declared her satisfaction at being awarded a Sports Oscar. Morace, born in 1964 and holds a degree in Law from Rome's La Sapienza University, has been the emblem of Italian women's football for years. She has left football to become a coach and TV commentator since 1998.
She was a striker for Lazio, Reggiana, Milan, Torres, Agliana, Verona and Modena, winning 12 league titles and 11 times the top scorer title in Serie A professional league. In the national team, after her debut in 1978 against Yugoslavia until 1997, she made 153 appearances and scored 105 goals. She was a finalist in the 1993 and 1997 European Championships. After leaving playing football, she coached Lazio Women's team and even, in July 1999, Viterbese in C1, becoming the first woman to lead a professional men's team, despite being in charge for only two days.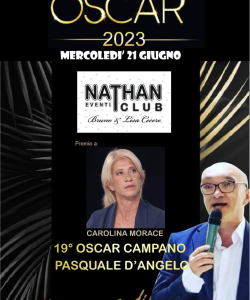 She later served as technical commissioner of the Italian women's national football team, from 2000 to 2005, of Canada, from 2009 to 2011, and of Trinidad and Tobago, from December 2016 to June 2018, when she became the coach of the newly formed women's section of A.C. Milan, while from January to October 2021 she was on the bench of  Lazio women's team. Carolina was also the first woman in the Italian Football Hall of Fame. She also boasts numerous TV experiences: in addition to presenting the TV show Galagol in 1992, she was a commentator for the programme Campioni, il sogno in 2005 and the Women's World Cup in 2019.
In October 2020, Carolina came out of the closet, revealing his love for his wife, Australian Nicola Jane Williams, who met in Japan during a Fifa event. She has published a book in which she talks about her private life, titled Fuori dagli schemi, and continues her work as a coach and commentator.
Cover image: Carolina Morace's Facebook Official Page