The third edition of the Sicilia Jazz Festival starts on 23 June
From 23 June to 2 July, the third edition of the Sicilia Jazz Festival will take place, an event of extraordinary scope organized by the Regione Sicilia under the aegis of the Tourism, Sport and Entertainment Department.
The places of the Sicilia Jazz Festival
The program, with more than 30 concerts, will take place at five particularly significant venues in the city of Palermo: the prestigious Real Teatro Santa Cecilia, the Ridotto dello Spasimo, Palazzo Steri, Palazzo Butera, and the evocative Teatro di Verdura.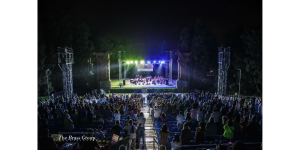 Start 23 June
Inaugurating the 2023 edition of this festival will be Marcus Miller, renowned American bass player, composer and record producer. His career is adorned with two prestigious Grammy Awards, and he has been awarded the title of UNESCO Artist for Peace.
This internationally renowned star will present for the first time a remarkable repertoire specially commissioned for the occasion. He will perform with the Orchestra Jazz Siciliana in his only symphonic European concert, thus opening his tour in the old continent with a unique and exciting experience.
Artist at the Festival
Among the artists who will perform are names that jazz lovers know well, including Anastacia, The Manhattan Transfer, Gregory Porter, Al Mckay's Earth Wind & Fire, Diane Schuur, Manuel Agnelli and many others.
The Sicilian Jazz Orchestra will accompany all the big names' concerts.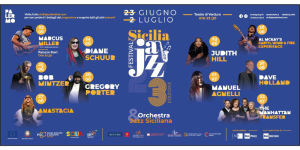 The Sicilia Jazz Festival is a major event for our wonderful Sicily, as Maestro Ignazio Garsia, president of The Brass Group Foundation, declared during the press conference.
Not only does this festival offer the local and tourist public a series of extraordinary concerts, but it also represents an unprecedented opportunity to involve the musical excellence of our region, including the talented musicians from the local music conservatories.
The conservatories involved are: 'Vincenzo Bellini of Catania', 'Arcangelo Corelli' of Messina, 'Alessandro Scarlatti' of Palermo, 'Antonio Scontrino' of Trapani and 'Arturo Toscanini' of Ribera, the latter being a source of pride as, thanks to the commitment of director Riccardo Ferrara and the professors, it has been transformed from a state conservatoire to a state conservatoire.
All in all, there are all the premises for this year's edition of the Sicilia Jazz Festival to offer an authentic spectacle, repeating previous editions.