The magical atmosphere of Christmas is coming, and for this reason, we at Initaly.eu are ready to take you with us to Italy's most beautiful markets.
To begin our journey, today we will take you to the splendid village of Montepulciano (SI), where from 18 November the lights of 'Christmas in Montepulciano' will be turned on for its tenth edition.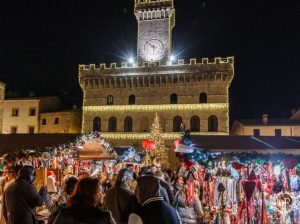 When?
Starting 18 November 2023.
18-19-25-26 November
2-3-7-8-9-10-16-17 December
22 November to 7 January
What time?
From 10.30 a.m. to 7.30 p.m.
Where?
In the magical setting of Piazza Grande (Montepulciano), in Via San Donato and adjacent streets.
What is "Christmas in Montepulciano?"
Now in its tenth edition, 'Christmas in Montepulciano' is one of the most beautiful Christmas initiatives in Italy.
The market is composed of more than 65 small wooden houses where it will be possible to enjoy the many surprises on offer.
In fact, on the occasion of its tenth edition, the organisers have thought of many novelties to bring to those who will visit the beautiful event.
The market, which takes place in the upper part of the village, between Piazza Grande and Via San Donato, hosts exhibitors from all regions of Italy.
One of the peculiarities of the Montepulciano markets is undoubtedly the originality of the products on display, made possible by the presence of diversified merchandise categories: Christmas decorations and ornaments, wooden handicrafts, accessories and leather goods, local handicrafts, jewellery, curiosities, foodstuffs, sweets and much more, always under the banner of quality and diversification.
In addition, as we had already announced, thanks to the vast space available, the market will be the stage for numerous shows and entertainment shows to entertain young and old alike.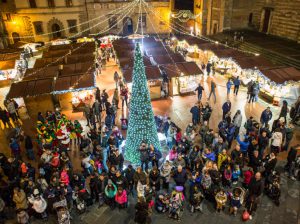 The Christmas Terrace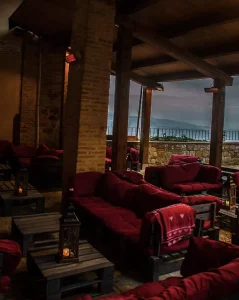 Just a few metres from the pizza, where the Market is hosted, is the Christmas Terrace.
The Christmas Terrace is a unique and evocative space, created inside a natural terrace overlooking the Val d'Orcia, set within the Renaissance walls of the 16th-century Pearl, from which to admire one of the most beautiful landscapes in Tuscany, while tasting a glass of Vino Nobile di Montepulciano DOCG.
From here you absolutely must not miss, on beautiful, clear winter days, an extraordinary souvenir photo with the colours of the sunset.
Don't forget to tag us on your social channels!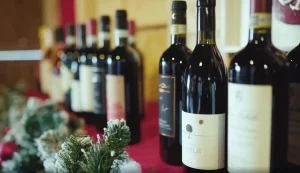 Santa's Castle
In addition to the beautiful Christmas Market, 'Christmas in Montepulciano' in its medieval fortress, just a few metres from Piazza Grande, is home to Santa Claus' Castle.
This is undoubtedly the magical centre of attraction for children and their families.
Spread over three floors, huge and majestic, it has many visitable rooms festively decorated and full of surprises.
This castle is truly an attraction not to be missed.
Everyone who crosses the threshold of the castle will have the honour of getting to know and discover where Father Christmas lives, with the possibility of various activities with the elves and for the little ones, writing letters to send to Father Christmas.
In addition, it will be possible to visit the winter garden where one can board Santa's legendary sleigh, and finally meet 'Father Christmas.
Before leaving, children will be able to stuff their magical letters into a fairy contraption that will release a cascade of snow.
Inside the castle, they can enjoy the magical workshops of Santa's elves, and then head to the castle garden, where they can take a pony ride.
Everyone will be able to enjoy the rich culinary offer of street food with sweet and savoury specialities.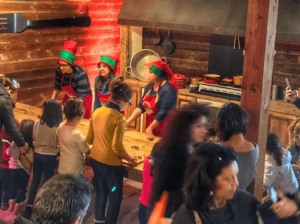 How much does it cost to visit Santa's castle?
Children from 0 to 2 years free of charge
 Children from 3 to 9 years 8.00 euro
 Adults and children over 10 years 10.00 euro
N.B The admission ticket includes all entertainment activities
(the pony ride requires an extra ticket)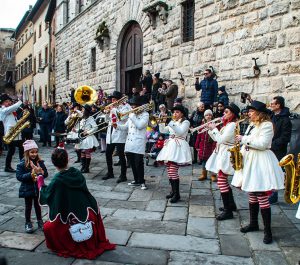 To experience a magical Christmas atmosphere, all you have to do is get to Montepulciano and have fun with young and old alike.
Don't forget to tag our social accounts in your posts and stories!
Happy travels from Initaly.eu.
To discover the full program of 'Christmas in Montepulciano', click here Natale a Montepulciano