A unique and innovative four-star hotel. 94 rooms in which 50 international street artists pay homage to Italian excellence in every field.
VERONA – Muraless Art Hotel was born in Verona and is the first and only hotel entirely dedicated to Street Art. An accommodation facility in all respects, with single, double and triple rooms that, through "street painting," celebrates the excellence of the Bel Paese, from wine to food, art to cinema and fashion to design.
The challenge to realise this sui generis and unique project on the world scene started in 2021 to upgrade a pre-existing hotel structure, the former Hotel Cristallo, now in decline.
Muraless Art Hotel is much more than a hotel. It is, in fact, a true temple of Street Art and a Museum of Made in Italy.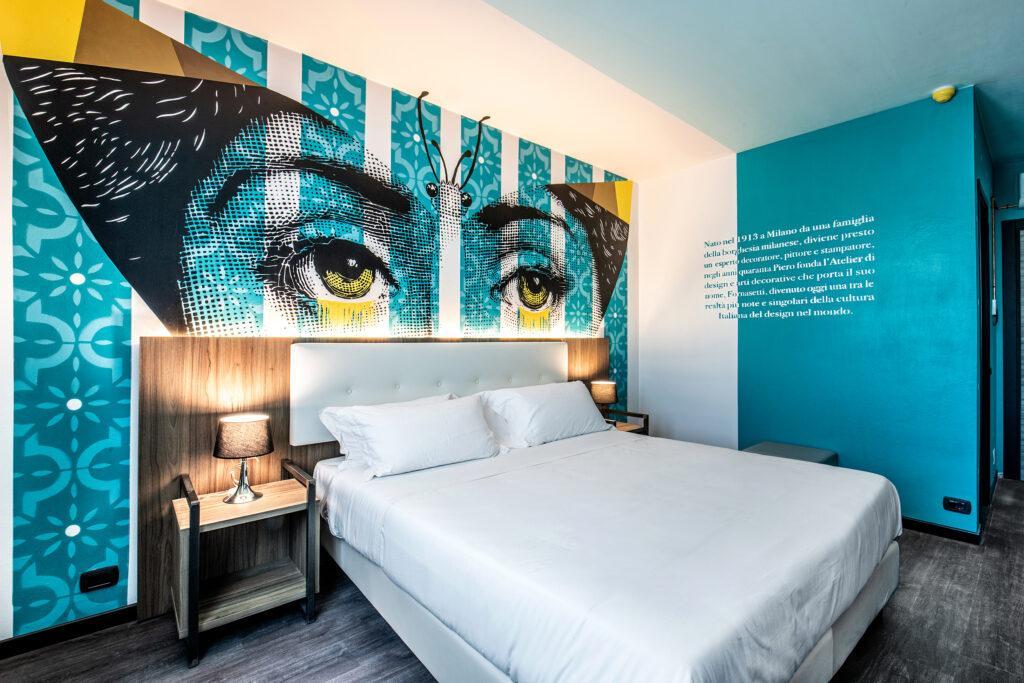 Muraless Art Hotel, regenerate yourself by immersing in art
The company that gave life to this project explains that the idea of Muraless was to reach out to an audience that was not only that of galleries and museums but also casual passersby or travellers with a desire to regenerate themselves through the beauty of art.
The project's goal was also "to make people understand the value of street art work, to create a new way of offering hospitality, and to support Made in Italy on many levels."
The facility is close to the highway, the Verona Fairgrounds and the historic centre, making it ideal for business travellers and those who intend to stay in the city.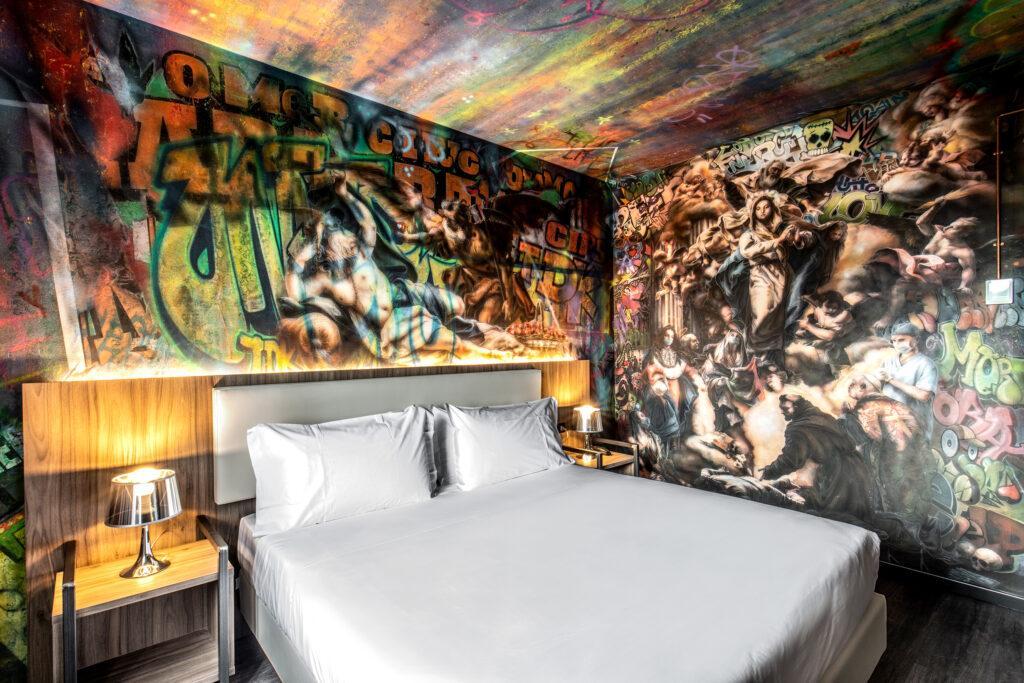 A journey through Made in Italy
Chiara Canali, art critic, journalist and independent curator, curated this project, together with artist Andrea Zamengo, aka Chill Surrealism, and the "Deodato Arte" Gallery in Milan (www.deodato.com).
Chiara explained the importance of communicating to the artists "the need to create pleasant and engaging environments, whose messages could be easily interpreted and deciphered by everyone, even by those who do not have specific knowledge of Urban Art techniques and codes."
The hotel has more than 90 rooms, each featuring thematic murals that precisely embody Made in Italy in all its facets: wine, opera, cinema, motors, art, architecture and design, history, science, food, fashion and music.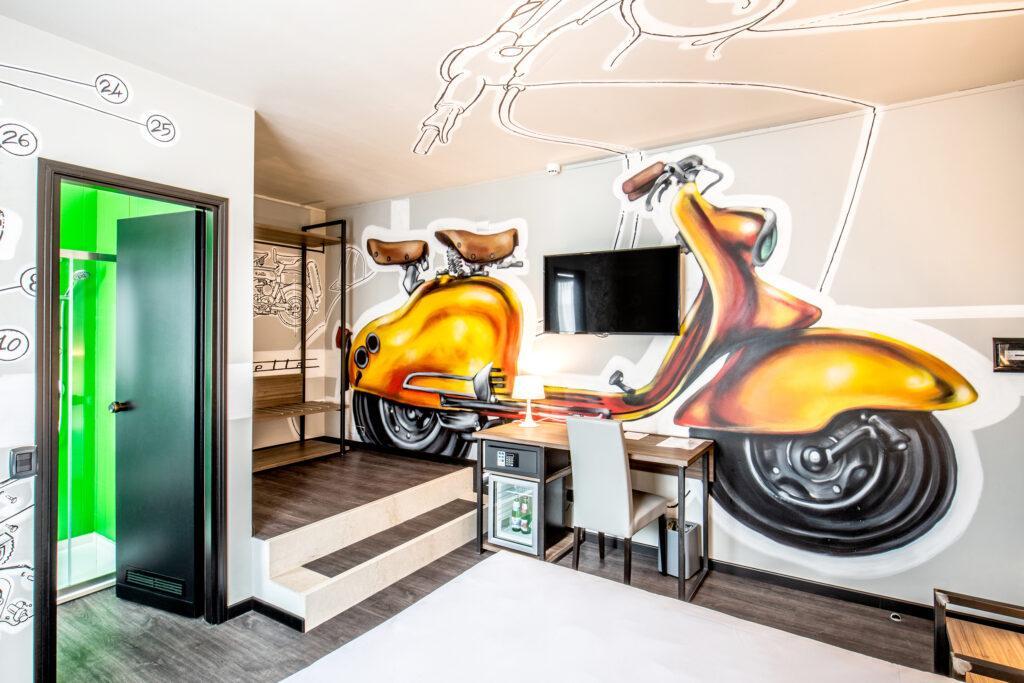 Muraless … without barriers and borders
The word Muraless, Chiara further explains, "is in itself a play on words between the Spanish term "murales'" which generally indicates a painting made or applied on a wall, and the fusion of the noun "mura" (walls) and the privative suffix "less" (i.e., without walls) that embraces the desire to break down barriers and boundaries of vision, to offer unprecedented interpretations of space and reflections on today's forms of expression."
In short, what you can find in this facility is a "democratic" vision of the artistic experience and its use. A comfortable space, but at the same time, an informal one.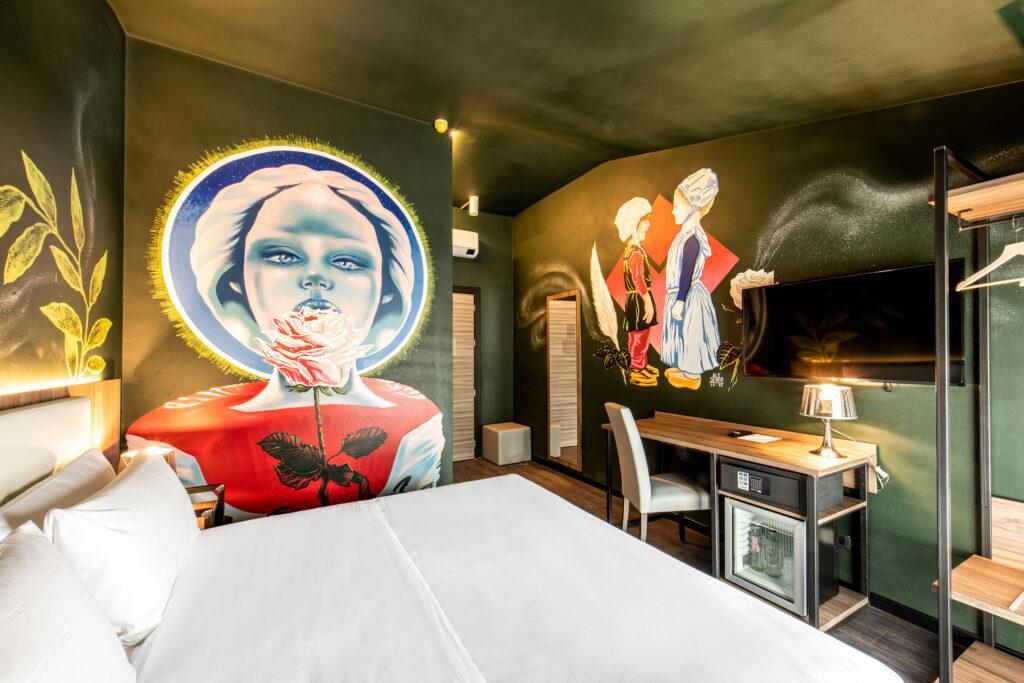 Fall asleep and wake up surrounded by art
What Muraless offers is an incomparable multisensory and immersive experience. Unlike a usual exhibition tour, you are surrounded by art and can choose which situation to immerse yourself in, considering your passions.
Each room is, in fact, different from the others. They range from softer and more relaxing atmospheres to more energising and dynamic ones.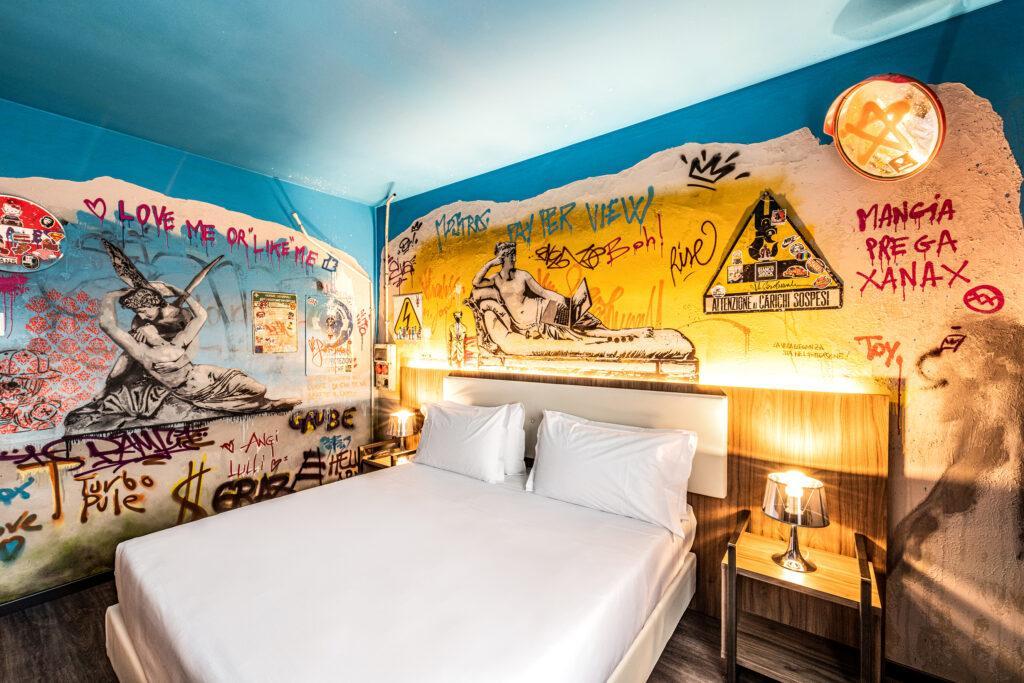 You can contemplate the classics of Italian art such as Botticelli, Leonardo da Vinci, Michelangelo, Titian, Caravaggio, Tiepolo, Canova, Modigliani, De Chirico and Depero.
Or you can also immerse yourself in the Turandot, La Traviata, Rigoletto, The Barber of Seville, and Madama Butterfly sets, as well as in the history of the Rome of Pompeian mosaics or the Popes.
You can learn about the inventions of some famous Italian scientists such as Guglielmo Marconi (radio), Alessandro Volta (battery), Antonio Meucci (telephone); Margherita Hack, get involved in the stories of some actors such as Monica Vitti, Anna Magnani, Massimo Troisi. And, finally, have fun with fashion, motors, and design or imagine enjoying the best Italian food and wine products such as pizza, ice cream, coffee, wine and, of course, the Pandoro of Verona (a typical dessert).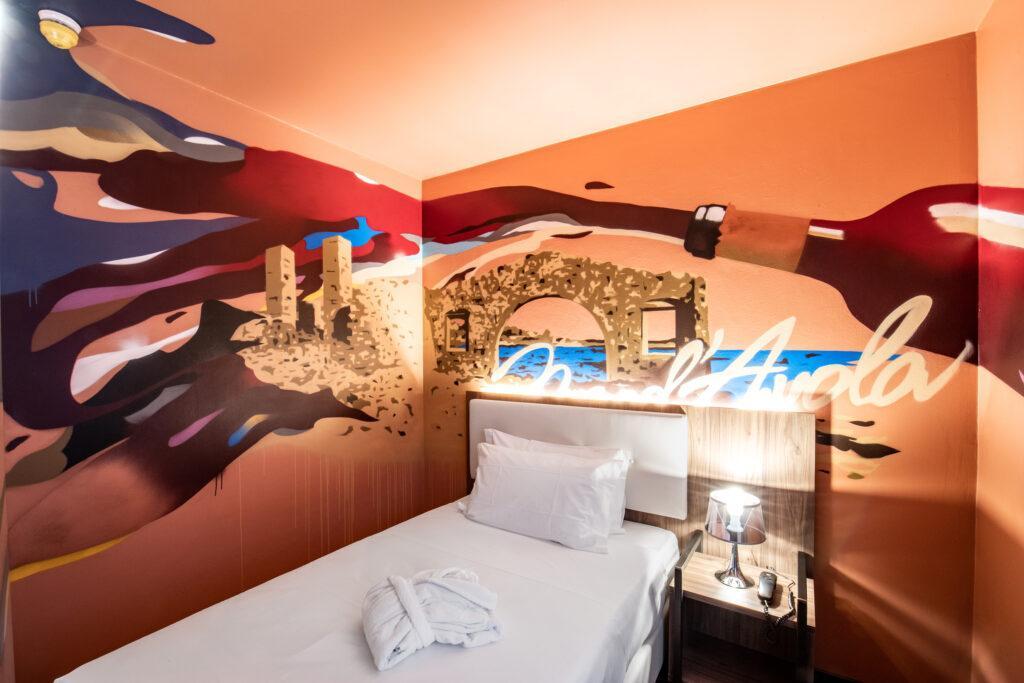 As Chiara Canali reminds us: "the succession of sections, themes and subjects gives a fresco of the history, culture and excellence of Italian heritage".
To all intents and purposes, the hotel is a "liveable" museum in which "the spectator/guest becomes the protagonist of an immersive and interactive experience within the Italian historical and cultural heritage. A unique and customised experience".
But that is not all. In addition to the rooms, the common spaces can also offer a journey between fantasy and reality. The hall floor, for example, is the protagonist, thanks to a painting by Agron Hoti, an internationally renowned contemporary visual artist who has created a veritable explosion of colour with his technique.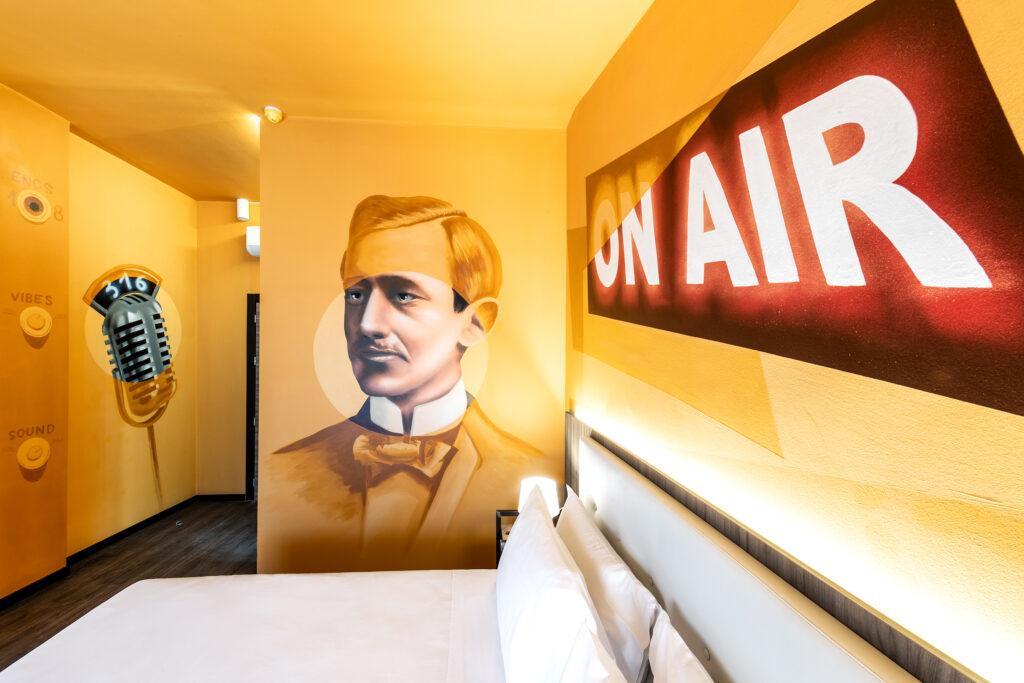 Muraless, 50 international artists for a container of Urban Art
The artists called upon to create this "container" of all-around art, through stencils, spray cans, freehand painting, 3D modelling and digital graphics, are the historical names of Italian writing (Joys, Etnik, Wubik, Frode, Gatto, Mister Thoms, MrFijodoor).
Therefore, there are the names of Muralism (Neve, Cheone, Vesod, Seacreative, Refreshink, Casciu, Luca Font, Ufo5, Ale Puro) and the exponents of the new generations (Chill Surrealism, Luogocomune, Rise, Soler).
Last but not least, there is no shortage of pink quotas with Coquelicot Mafille, Nais, Senso, and Octofly.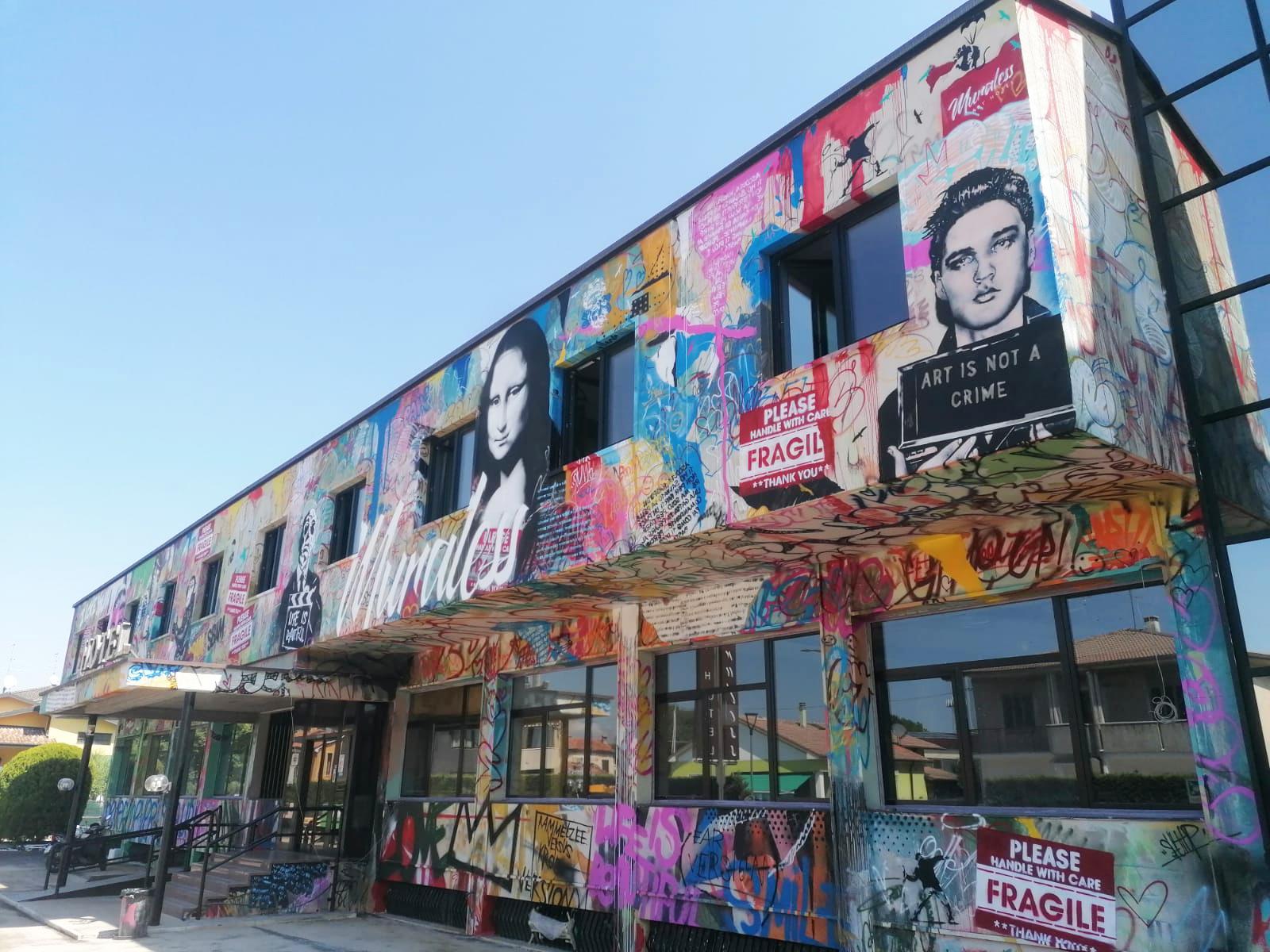 The facade of

Mr. Brainwash
The hotel facade bears the signature of Thierry Guetta (Garges-lès-Gonesse,1966), aka Mr Brainwash, one of the most sought-after and internationally quoted street artists. He collaborated with Banksy on the Oscar-nominated documentary "Exit through the gift shop" (2010). Some even believe that Mr Brainwash is Banksy.
His art certainly draws inspiration from his colleague Banksy. Still, there is no lack of references to Andy Warhol and Keith Haring, comic book superheroes, Disney classics and icons of classical and modern history: from the Mona Lisa to Marilyn Monroe, from Albert Einstein holding a sign saying Love is the Answer, to Mickey Mouse and Minnie Mouse.
For further information info@muralessarthotel.com