According to science, autumn is the season of love.
In accordance with this view,Initaly  we aim to help our readers who are aiming to experience an elopement in Italy.
Which cities have been chosen for you?
Verona
Chianti Hills
Matera
Verona: Romeo & Juliet, the city of love!
In everyone's eyes, Verona is seen as the city of love between Romeo and Juliet, so what better city than this for a romantic getaway?
Going back to Goethe who recalled how pleasant it was
"walking on the rim of the amphitheatre crater, at sunset time, enjoying the beautiful panorama of the city and its surroundings"
we take you on a discovery of this city born on the banks of the Adige River.
Not everyone knows that Verona is called the 'Gateway to Italy', thanks to its artistic and natural beauty.
As soon as you pass through the gates of Verona, you will come across the splendid Piazza Bra, one of the largest in Europe, which then leads to the magical 'Arena'.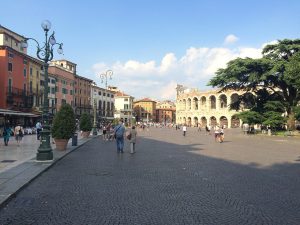 Continuing our walk in Verona, we come to Via Mazzini, one of the most glamorous and shopping streets, in other words a true shopping paradise.
At the end of Via Mazzini, we reach Piazza delle Erbe, the oldest square in Verona and, since 2012, the most popular square for Italians.
Not far from Piazza delle Erbe, we recommend you sample the delicacies of the Casa Perbellini restaurant, located at Vicolo Corticella S. Marco, 3, holder of two Michelin stars, which allow it to boast international status.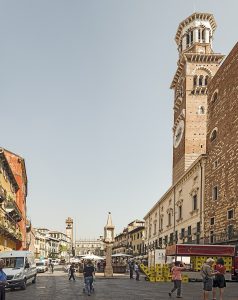 Another symbolic place in Verona, the fruit of love, is the famous Balcony of Romeo and Juliet, where it will also be possible to visit the interior of Juliet's house.
When is it open?
Tuesday to Sunday from 9 a.m. to 7 p.m. (last entrance to the courtyard at 6.50 p.m.)
How much does it cost to visit?
full price: € 6,00 + € 0,60 online presale
reduced groups (over 15 people), concessions, over 60, students 14-30 years: € 4,50 + € 0,45 online presale
free of charge (online booking of free admission on museiverona.com)
persons with disabilities and their accompanying person
children up to 7 years of age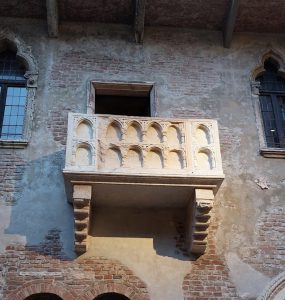 Finally, we cannot fail to mention the fascinating Arena di Verona, one of the oldest amphitheatres in the world, which has been hosting world-famous concerts and events for many years now.
What are the opening hours?
Visiting hours for the Arena di Verona are as follows:
from October to May: Tuesday to Sunday from 9:00 to 19:00 (last admission at 18:30)
How much is the ticket?
The cost of tickets to the Arena di Verona is:
€ 10,00 full price
€ 7,50 reduced (over 60, visiting groups, students with student card or university booklet)
€ 1,00 concessions for children aged 8-14, accompanied only
Free: over 65 residents in the Municipality of Verona, disabled people and their escort, children up to 7 years old.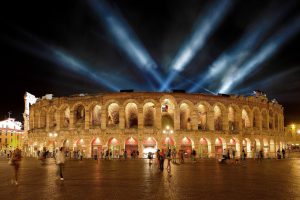 This concludes our tour of the city of lovers.
Don't forget to take a selfie before leaving the city and, if you like, share it with us by tagging our social profiles.
Chianti Hills: Love immersed in nature!
When one speaks of 'Chianti', the famous Tuscan wine of the same name cannot fail to come to mind.
However, Chianti, with its hills, also shows itself as a serene and secluded place of love where one can spend a few days in the green heart of Tuscany. Enriching Chianti are its magical villages. We mention only a few, but the list would be long.
We can immediately mention Greve in Chianti, a small but charming village dominated by the centuries-old Montefioralle Castle.
Greve in Chianti found its fortune after being at the centre of an important trading crossroads for centuries.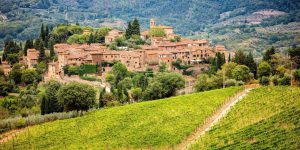 A visit to the Wine Museum and the Church of Santa Croce is worthwhile.
Another village worth mentioning is undoubtedly Castelnuovo Berardenga.
This village was for years the refuge of nobles, who embellished it with their villas, including Villa Chigi Saracini.
The historic centre is a succession of cobbled alleys and charming little squares and, of course, many wine bars where you can stop and taste the local wines.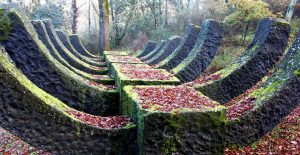 Another valuable stop is the chianti sculpture park located in Pievasciata, in the heart of the Sienese Chianti region.
It is home to a permanent exhibition consisting of installations designed to be completely integrated into the surrounding environment: here, the link between art and nature is exalted to the utmost.

When is the park open?
The park is open daily from 10 am to sunset.
How much does it cost to visit?
Admission costs:
€ 10 for adults
€ 5 for children and youths up to 16 years of age
Before leaving the area, it is a must to take the route of the ancient Chianti Classico wine and oil road.
This route is capable of restoring to those who decide to undertake it the millennial history guarded by this land.
Travelled at a slow pace, it allows one to admire the beauty of its panoramas enhanced by the presence of wine cellars, agritourisms and wine shops that allow one to make pleasant stops along the way.
Matera: the city of stones and love
Matera is our final gem that we recommend for a romantic getaway for couples.
This town is a real pearl nestled among the 'sassi'.
As you can well imagine, the town can be experienced mainly on foot and perhaps this makes it even more romantic.
Thanks to its narrow alleys with interesting views, it is possible to take photos to keep as a souvenir of the beautiful visit.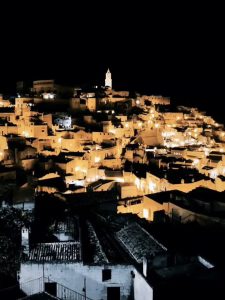 Undoubtedly, the first stop to make during the day is the Belvedere in Piazza Vittorio Veneto, which can also be repeated late in the evening, where it is possible to admire the beautiful illuminated sassi.
During the morning, it is possible to visit the Madonna dell'Idris, the Sasso Caveoso and walk around the Sasso Barisano district.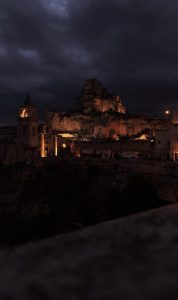 When is "Madonna dell'Idris" open?
Daily from 10 a.m.
Last access is at 18:45.
How much is the ticket?
Full 4 euro
Reduced 3 euro
FREE ENTRANCE RESTRICTED TO: Religious, children up to 15 years of age accompanied by a parent, licensed guides on duty, journalists (upon presentation of valid ID)
Another stop, and an Instagrammable photo, is at the Dali clock, and then we venture down the steps of Matera and encounter the many churches scattered around the city.
The real charm of Matera comes at night.
From 10 p.m. onwards, as you walk slowly through the town (because you slip easily), you will come across a real spectacle.
You discover the beautiful illuminated 'living nativity scene'.
Besides, what could be more romantic than a shot with the fully lit stones behind you?
You just have to experience it.
An interesting curiosity
If you are a film buff, you really must visit it.
Matera is an open-air set; in fact, an estimated 40 national and international films and dramas have been shot in the Lucanian town.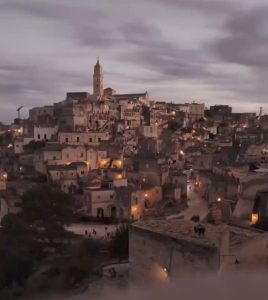 We've given you the tips, now it's up to you to visit these beautiful destinations.
Don't forget to tag our page in your couple selfies on social channels.