The exhibition
Inaugurated on April 7 in Avellino, in the spaces of the former Eliseo cinema, the exhibition 'Banksy is Who Banksy Does! An unconventional Street Art Exhibition'. For the first time, the works of the Bristol artist, whose identity is unknown, will come to the capital of Irpinia. He continually surprises with street art that is a social critique of war, discrimination, capitalism, and contemporary massification.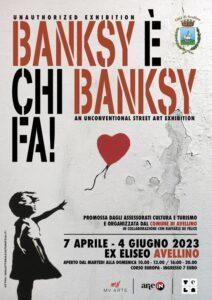 The initiative
The exhibition will last almost two months, ending on June 4: another exemplary initiative of the Municipality of Avellino, seeking to bring art and culture to the city, which have been absent for too long, and to create a possible tourist route that goes beyond the August week of Vinicio Capossela's Sponz Fest in Upper Irpinia. The initiative starts from the mayor, Gianluca Festa, who is in charge of Culture, and the Tourism Department. The promoter of the exhibition is the Councillor for Tourism, Laura Nargi – also Deputy Mayor. This event aims to bring people passionate about art, culture, travel, food and wine to the city of Irpinia.
I interviewed vice-mayor Laura Nargi about the initiative and its broader socio-cultural significance.
The interview with the deputy mayor of Avellino
"This administration, and specifically the Department of Tourism, has always had the ambition of bringing the city of Avellino onto the circuit of the great contemporary art exhibitions,' she told us, 'and with Andy Warhol, we have hit the mark, bringing the father of Pop Art to the ex-Elysée Palace for an exhibition of great appeal that has attracted significant numbers.
The Andy Warhol exhibition
"The decision to bring Andy Warhol and other exponents of Pop Art to Avellino is clear: his art has always been a point of reference for the world of cinema. Therefore,' he continues, 'we decided to inaugurate a season of contemporary art exhibitions with him at the former Cinema Eliseo.
And the numbers proved the administration right. 'There were 7,500 admissions in just over a month,' says Nargi, 'with tourist flows also coming from Puglia and the other provinces of Campania. The event at the former Eliseo turned the spotlight back on the city of Avellino and a structure that had remained closed for too long.
The former Cinema Eliseo and the agreement with the Cineteca di Bologna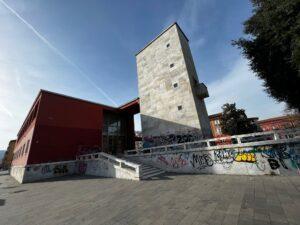 But the surprises are not over. Laura Nargi reveals: 'The former Eliseo is a structure that is dear to us, which, in addition to its natural cinematic vocation, we have consolidated and strengthened by closing an agreement with the Cineteca di Bologna to begin a journey in the wake of great international cinema, which will also include films restored by the Bologna Foundation, lends itself to hosting events of this nature and scope. This initiative is praiseworthy and undoubtedly remarkable, given the worldwide importance of the Bologna Cineteca and its incredible cinematic offer.
Read also: https://in-italy.eu/in-famiglia/pasquetta-a-bologna-luoghi-e-curiosita/
Tourism and culture in Avellino
The deputy mayor and councillor for tourism speaks of a wise synergy: 'Tourism and culture travel on the same road. Organising major events means creating induced activity for the city, which has never happened before. We had courage, vision and ambition, and evidently, we were rewarded.
Expectations
After the success of the Warhol exhibition, expectations are high: 'With the next appointment with Contemporary Art, we want to go further,' Nargi tells me. "The exhibition raises the bar of our cultural and tourist offer even higher. Given the importance of an event attracting visitors from all over southern Italy, we expect to exceed the numbers put together with Warhol. Even from culture, one must think of starting to revolutionise the destiny of a place.
Other artists and territorial marketing
"The exhibition dedicated to Street Art, which in addition to Banksy will also bring to Avellino works by Keith Haring, Jean-Michel Basquiat, Space Invader, Ron English, and others, is part of a broader programme to which territorial marketing, tourism, and culture contribute, and which aims to make Avellino increasingly a point of reference in the regional and, why not, national panorama. We hope that we will realise such an ambitious goal!
Read also: https://in-italy.eu/in-mostra/warhol-haring-basquiat-la-pop-art-a-bologna/
The organisation
The exhibition 'Banksy is who Banksy does!', dedicated to the 'world's best-known unknown' was organised in collaboration with MV Arte and curated by Raffaele De Felice and consists of around 50 works from private Italian collections in an alternation of works on canvas, wood, paper, sculpture, signed silkscreens, posters and memorabilia selected over years of research.
I will now speak more specifically about the artists that make up this exhibition.
Banksy
Considered to be one of the leading exponents of post-graffiti and guerrilla art, he hails from Bristol, and his identity is unknown, as is typical of guerrilla art. This fact has undoubtedly contributed to the building of his fame. Banksy has been active since the late 1980s. He started as a writer but then specialised in the stencil technique (the term existencilist is used), inspired by the French street artist Blek Le Rat.
Identity
Various assumptions have been made about his age and identity. Most believe he was born in 1974 or around the mid-1970s; according to many, he could be Robert Del Naja, founder of the legendary Bristol trip-hop band Massive Attack.
Notoriety
When Time magazine chose the British artist Banksy – graffiti master, painter, activist, filmmaker and all-around provocateur – for its list of the 100 most influential people in the world in 2010, he found himself in the company of Barack Obama, Steve Jobs and Lady Gaga. He provided a photo of himself with a paper bag (recyclable, of course) on his head.
The 'bombings'
He went from being an outlaw who sprayed – or, as they say, 'bombed' – walls in Bristol, England, in the 1990s, to an artist whose works are worth hundreds of thousands of dollars in auction houses in Britain and America. He has bombarded cities from Vienna to San Francisco, Barcelona to Paris and Detroit. And from graffiti on city walls, he has moved on to painting on canvas, conceptual sculpture and even film, with the 2010 Oscar-nominated documentary 'Exit Through the Gift Shop'.
Art, a popular idea
While concealing his identity, Banksy argues for a direct connection between the artist and his audience. 'There's a whole new audience out there, and it's never been easier to sell [one's art],' he said. "You don't need to go to university, drag around a portfolio, send transparencies to snobby galleries or get into bed with someone powerful: all you need now is a few ideas and a broadband connection. It is the first time that the art world, essentially bourgeois, belongs to the people. We have to make it count.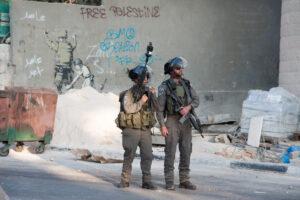 Jean-Michel Basquiat
He died at the very young age of only twenty-seven due to heroin and is considered, together with Keith Haring, to be the founder of graffiti art. Basquiat left behind essential works and one of the most original contributions to contemporary visual art. A pupil of Andy Warhol, beautiful and elegant, with a sad and intense gaze, he has been compared to neo-expressionism for his use of bold colours (black, red, green) and the depiction of anthropomorphic figures. His art was born on the street and is characterised by a strong critique of capitalism and contemporary hypocrisy.
Ron English
Considered an heir to Andy Warhol, an American, born in 1959, Ron English describes his vivid and irreverent approach to the Pop art aesthetic as 'Popaganda'. In his drawings, paintings and murals, the artist incorporates iconography derived from superhero comics, art history, advertising and politics. The results are surreal reflections on high and low culture across the centuries. English first approached art on the street; in the 1980s, he participated in culture jamming (billboard alteration) with the Billboard Liberation Front.
Exhibitions and music
He later earned a master's degree from the University of Texas. English has exhibited in London, Los Angeles and New York, among other cities. In addition to his art and mural practices, English has produced album art for musicians such as the Dandy Warhols and Slash, works for the documentary Super Size Me and a series of designer toys.
Anthony Lister
Anthony Lister is an Australian graffiti artist best known for the fusion of 'high' and 'low' cultural imagery in his work. Born in 1979 in Brisbane, Australia, he studied at the Queensland College of Art. In 2002, he travelled to New York, where painter Max Gimblett mentored him. As a teenager, Lister helped create the street art movement in his hometown and is considered Australia's leading street artist.
The Style
His figurative, scribbled style uses charcoal, acrylic, spray paint and oil. "The first rule of painting is to take everyone else out of the equation," he said. "I am the observer, so I don't underestimate my viewers. They see everything, and I just assume they are me. I cannot paint for anyone else'. His exhibitions include those at New Image Art Gallery in Los Angeles, Robert Fontaine Gallery in Miami and Black Art Projects in Melbourne. Lister currently lives and works in Sydney.
Space Invader
"Entering a city with tiles and concrete and invading it is the most immersive game I have ever played."
Invader (French, born 1969), also known as Space Invader, began plastering the evening streets of Paris in 1998 with mosaics of Space Invaders, a character from a 1978 Atari game, immediately gaining notoriety. These were joined by Pac-Man ghosts and other popular 8-bit characters, and the works soon became a famous sight in cities worldwide, from Los Angeles, Hong Kong, Berlin, Tokyo, London to Kathmandu.
"Every time I put a new piece on the street, it's like a memorable exhibition," he said.
The installation process
Although Invader's favourite subjects are video game characters, he varies his designs, allowing them to blend in with their surroundings. The mosaics are made of weather-resistant tiles. The installation process takes at least a week and includes researching, recording and mapping the locations. In addition to the mosaics, Invader creates similar 'pixelated' works using Rubik's cubes.
The exhibition
Since 2000, Invader's works have been exhibited in galleries worldwide. After starring in the 2010 documentary film about Street Art, 'Exit Through the Gift Shop', the artist gained even more tremendous popularity and notoriety.
The location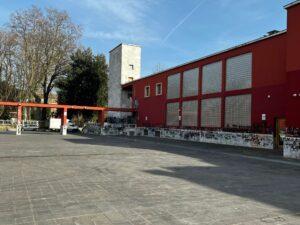 The place where the exhibition takes place is symbolic: the former Eliseo cinema, a place representative of the culture and struggles of this city, a place that, together with the Customs House, embodies its soul. The Festa administration was keen to make things big following the reopening of the Eliseo to the public. So, after the genius of Andy Warhol, Banksy and other important international artists dedicated to Street Art, which is always social art, by definition, arrived in Irpinia.
Street Art
And the fact that art that seeks to involve all strata of the population, to make them participate in socio-political dynamics, is exhibited in one of Avellino's most critical public places is a powerful message inviting awareness, participation, and the sharing of symbolic places and practices through art.
The possible rebirth of Avellino
And so, with the hope of a rebirth of the city of Avellino, of a revival of the original vitality of the Irpinian people and awareness of the 'green Irpinia' among a wider 'public', I invite you to visit the city's legendary cinema – right in the centre, next to several clubs, the Villa Comunale and the beautiful Corso Vittorio Emanuele – and savour experiments in freedom, commitment and creativity.