One of Italian cuisine's most iconic and revisited dishes, Her Majesty the Carbonara, has a dedicated day. It celebrates one of the most loved, famous and, alas, (badly!) copied recipes. Carbonara Day, more than a simple date, has become a tradition every year on 6 April. Ready for this journey through taste and history, where aromas and flavours merge with the legend?
Origins and Meaning of Carbonara Day
First of all, let's start by explaining what this occasion consists of: it was created on purpose to pay homage to one of the most famous typical specialities on a global scale. The first Carbonara celebration dates back to 2015 when the Unione Italiana Food and the International Pasta Organisation established an official day for Carbonara lovers.
For eight years now, 6 April has been chosen as a fixed date. This event invites lovers, experts and experimenters to show off their perfect creations on social channels. In 2023, too, we expect to see an overwhelming number of photos and videos being shared and shared on Facebook, Twitter and Instagram using the hashtags #CarbonaraDay and #MyCarbonara… Remember, starting at 12:00  Italian time!
The 10 Commandments of Carbonara in Rome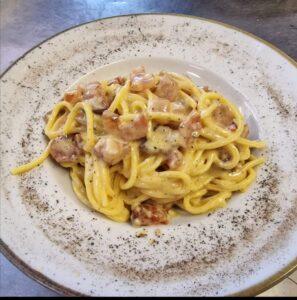 In the Eternal City, Carbonara is not only a typical and traditional Roman dish but an authentic institution. For this reason, in a restaurant or ancient inn, we recommend keeping the following decalogue in mind. Besides being nice in some ways, it can save you from unpleasant "misunderstandings" with local culture.
Use guanciale, namely cheek lard from pork, preferably in strips. This way, it will take on its classic crispiness. Cube-shaped guanciale is not recommended, and never speak of bacon!
Absolutely no Parmigiano cheese, but only Pecorino Romano D.O.P with the black peel and the "tear" of raw sheep's milk!
Do not cook the egg: the texture should be creamy, not a scrambled egg!
Garlic or onion are banned: save them for the ragù!
Do not use oil, butter or lard: guanciale will do everything!
There are no aromatic herbs or other spices. Skip to point 7!
The only accepted and necessary spice is freshly ground black pepper.
No cream, sauces or mixtures.
Warning! Never combine the words Carbonara, vegetarian or vegan. For those who follow a specific diet, there is an infinite variety of delicious recipes to try. Please don't blame us: here, the real protagonist is Carbonara!
Il formato di pasta ideale? Che siano spaghetti, rigatoni, tortiglioni o mezze maniche … l'importante è che sia cotta al dente! The ideal pasta format? Whether spaghetti, rigatoni, tortiglioni or mezze maniche, the important thing is that it is adequately cooked "al dente" (which stands for "firm to the bite")!
A word from the expert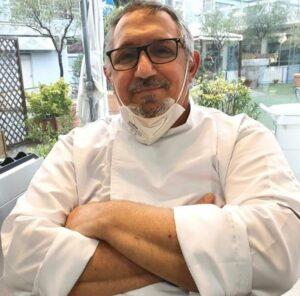 Despite being one of the dishes to be considered an authentic heritage of Italian cuisine, Carbonara is a relatively young and recent speciality compared to ancient Italian gastronomic traditions. The chef of the Osteria Villa Rugantino in Anzio, Maurizio Brugiatelli, speaks about it. Passionate and in love with Judaic-Roman cuisine, he puts all the experience he has absorbed into his dishes since childhood. He has tested his skills in the kitchens of Rome's best restaurants.
Among his other commitments, Maurizio is a cookery teacher in a very ambitious project that we will undoubtedly hear about before long. He studies, documents, and experiments like an inventor, a scientist who wants to achieve perfection. The main ingredient here is the passion he shares with his wife Marina, his life-long partner in adventure, and their 3 most beautiful delicacies ever: their daughters who have followed in their footsteps.
Maurizio first reveals about Carbonara that no top chef would combine three proteins in a single dish as if it were the mysterious secret of magical alchemy. For the first time, we see Pecorino cheese together with guanciale and eggs in such an unbalanced way. Am I wrong?
The unquestionable ingredients for a real Carbonara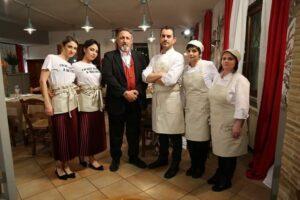 Once established a few necessary guidelines, this is how you should choose your ingredients. First of all, the owner of Villa Rugantino confirms that for any recipe, including Carbonara, we must use only top-quality raw materials. He actually delights his clients' palates by pampering, caressing, and teasing them with the best Italian products.
The well-cured guanciale lends crunchiness and fat to the tasty dish, while the Pecorino Romano D.O.P. adds the necessary sapidity. Egg yolk brings the creamy texture, and freshly ground black peppercorns provide the final aromatic spicy notes. It sounds easy, isn't it? Just try it yourself!
Carbonara, one of the youngest daughters of Italian cooking tradition
All around the origins of this delicacy, the most heated diatribes take place. Having an expert on the subject available, we could not help but take advantage of the very helpful Brugiatelli. Here we have tried to reassemble this somewhat confusing puzzle about the birth and paternity of our star dish.
We can all agree that the first written recipe for Carbonara dates back to the early 1960s when Gruyère and cream were significant ingredients. Concerning the presence of cream, we must specify a fundamental point. In his full immersion in culinary art, research and experimentation, Maurizio also had the opportunity, or rather the honour, of a stage with Gualtiero Marchesi, the most outstanding chef of the last century. The Milanese gastronome used cream in his Carbonara. The version we know today can be dated as far back as the 1980s.
The Anglo-American origin of Carbonara
But our chef Maurizio needed to know more. In his authentic investigations to discover the detail and the most intimate detail, he even went to unearth the nephew of the owner of the Restaurant Er Cavallaro, Rome's famous and picturesque Garbatella district. He had the opportunity to meet him and hear the story that would give rise to this Roman delicacy. Can it be disproved? Does it travel between history and legend?
Who knows. Please, sit back and listen to us! The story goes that the Allies in Italy in 1944 were big eaters of gricia (in other words, a Carbonara without eggs), charmed by the taste of the crackling guanciale. The "K Ration" supplied to the soldiers, i.e. a system conceived precisely to meet the army's food requirements, also included dehydrated eggs. So, the Anglo-Americans would take this yellow powder out of the haversack, like a painter's ochre pigment, and mix it with the pasta alla gricia mentioned above.
From dehydrated egg to hard-boiled egg
The one mentioned above is the story that Renato Gualandi told all along. The Bolognese chef from the Hotel Vienna restaurant in Riccione, curious, tasted this overseas experiment and found it quite pleasant. Mindful of this unusual surprise, he used only the egg yolk, which was exceptional.
Let's explain it better: we are talking about hard-boiled eggs from which the yolk is extracted, mashed and made creamy thanks to the cooking water. Then, we add pecorino cheese and pepper, then sprinkle guanciale in this sauce, and you have the impression of eating an original Carbonara. This version is undoubtedly more delicate for those with liver diseases, as the uncooked egg is not recommended for all digestive systems!
The difference in the ingredients' taste, texture and organoleptic properties is almost equal to zero: the secret behind a perfect imitation is top-quality raw materials.
The multiple paternities of Carbonara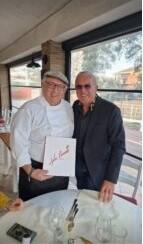 According to history, Anglo-Americans contributed to the birth of Carbonara, but only to some extent. According to another undisputed master of gastronomy, Igles Corelli, another source of inspiration for our Maurizio, the yellow would also derive from the cheddar cheese that evoked that particular egg shade. However, many hypotheses surround this delicious dish.
Some claim, and even the name would confirm this, that it was the Abruzzo coal miners (carbonari in the Roman dialect) who invented a meal called Cace or Ove (in Abruzzo local dialect, cheese and eggs), which was practical to carry in their sacks and eat with hands.
Still, others would trace Carbonara back to Neapolitan cuisine. According to this further thesis, in Ippolito Cavalcanti's famous treatise on theoretical-practical cooking, dated 1837, some recipes evolved into Carbonara as we know it today. Where is the truth? Having reached this point, Carbonara is a pure legend!
Beware of creativity: purists do not compromise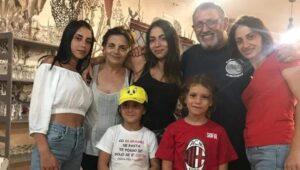 Taking a step back and talking about Carbonara Day will be an opportunity to show off your best in the kitchen and "give birth" to the perfect version of one of the most popular pasta dishes as far as the moon. Now, we must specify that although it is versatile and open to any variation, addition or touch of genius, there is only one for purists! A few first-rate ingredients and simple but precise rules for making this creamy, sun-yellow, scented and mouth-watering delight.
Carbonara is a triumph of delights and true pleasures for the palate. For Romans, gourmets and chefs who respect the traditions of the Eternal City, there is no room for fantasy or creativity here!
Resorting to a musical metaphor, we don't have possibilities for variations on the theme. However, our Latin fathers coined the expression de gustibus non disputandum est, which would sound like this in English: there is no disputing about tastes!
Quindi, non saremo noi a frenare il vostro estro o a privarvi della soddisfazione di cimentarvi in una variante vegetariana con le zucchine. Qui, parla la tavola e non c'è spazio per altro…  Orsù, dunque, lasciate "ogni dieta o voi che partecipate": allacciate i grembiuli e date sfogo al cuoco provetto che è in voi…
So, we will not curb your creativity or forbid experimenting with a vegetarian variant with courgettes. Here, there's no room for anything else. So, forget every diet and join in:  strap on your aprons and unleash your inner chef!
Having told you everything you needed, we only have to wish Happy Carbonara Day to everybody, the perfect occasion to share with your family or whoever you care about!
Photo Credits: Maurizio Brugiatelli, Osteria Villa Rugantino (Anzio, Rome)