La bella stagione è arrivata e la voglia di stare all'aria aperta spinge a cercare nuove proposte per passare il fine settimana in modo nuovo e stimolante.
A colourful weekend in Rome
How many times has it happened that you want to organise a romantic weekend, or that you want to take the children to do something new, and suddenly you find yourself without ideas, thinking about the usual places seen and seen again or doing the everyday things you do during the working week? Or do you want to get away from the rhythms of the city without straying too far?
Here is a possible itinerary to follow to make this weekend in Rome a little different from the usual.
What to do on a Saturday or Sunday afternoon in Rome? Reopening the Tulipark
To brighten up your afternoons in the capital, Rome's Tulipark, the Dutch-inspired tulip park where you can stroll and pick the flowers that catch your eye, has reopened.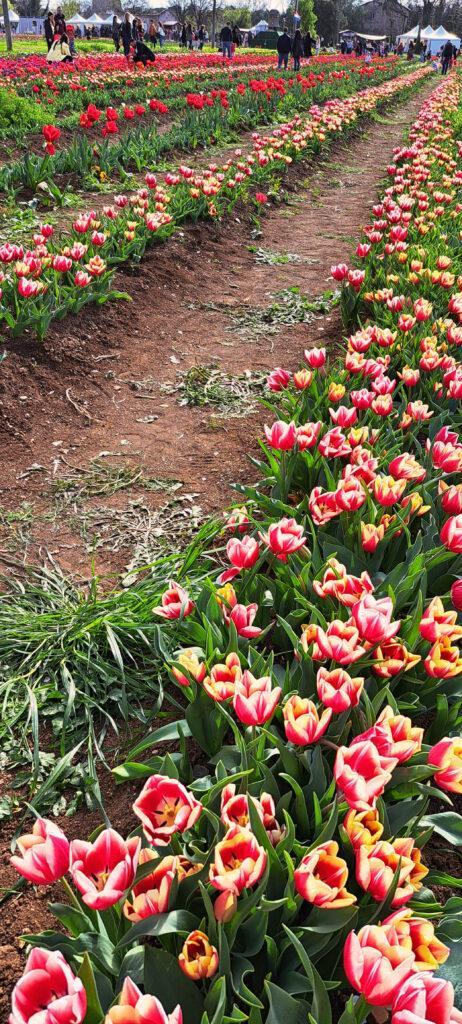 When and until when Tulipark is open
On Thursday, 23 March, to welcome back spring and sunny days, the new season for Rome's most colourful garden was inaugurated, a season that will close on Easter weekend, with 9 April as the last date to book tickets.
What is Tulipark, and how it works
Yes, but what is the Tulipark? To understand it, I suggest you this image: you are wandering with your car through the streets of the Gardenie district; you have just left the traffic and traffic lights of the Casilina and, suddenly, your gaze is struck by a vast field full of colourful stripes, an explosion of colours and nature set against buildings and streets. They are the tulips bloomed and ready to be picked!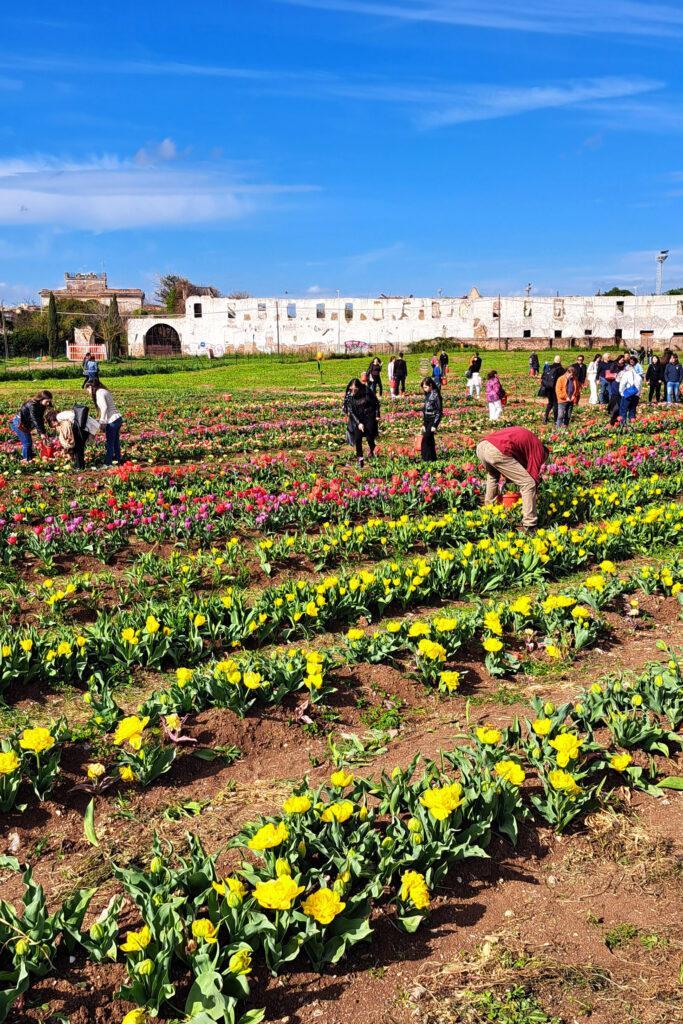 The Tulipark is a garden dedicated exclusively to this flower and was born to celebrate its beauty and allow patrons to enjoy an all-around gardening experience. The unique feature that makes the Tulipark a perfect destination that will enable you to actually 'do' something at the weekend is precisely the possibility of picking and taking home the most beautiful flowers, the ones that have impressed you the most and that you want to continue looking at the following days when you return to your usual daily routine.
An expanse of colourful stripes
You will see that the park is organised in neat rows of flowers. Guests strolling through the pink, purple, orange or striped stripes can bend down, choose their favourite flower, detach it from the bulb with gentle movements (thumb downwards, mind you!) and then place their tulip in the basket before packing it on the way out. There are two options for bringing home a little spring: either you buy a certain number of flowers with your entrance ticket, or you pick them up during the walk and pay on the way out only for the flowers you choose to take with you.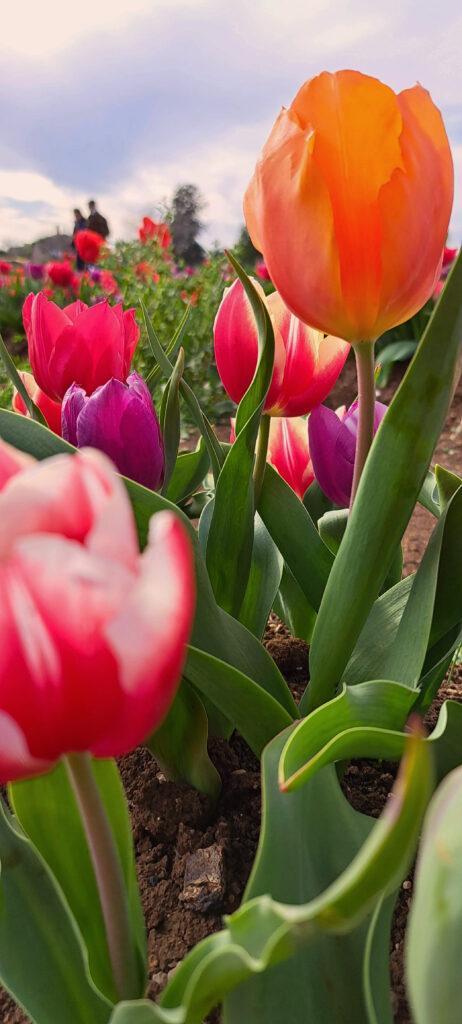 Suppose you are a nature or gardening lover. In that case, there is no better way to spend the weekend than to get back into the rhythms of the countryside, discover new anecdotes about the culture of another country and have an unusual experience.
However, if the area isn't convenient for you, but you want to continue immersing yourself in the flowers, then a walk among the cherry trees in EUR might be interesting.
A unique experience to have in Rome
There is no shortage of florists in Rome, even those open at two in the morning for that emergency bouquet to make up between boyfriends. But we have become so accustomed to seeing flowers already cut that holding a stem in our hands and detaching it from its bulb is almost a fear of hurting it, of doing violence to it.
On the contrary, getting in touch with this aspect, getting your hands dirty with the soil to detach the flower in the most delicate way possible, and observing the flowers to understand which ones have already blossomed the longest and which are still too immature to be picked, discovering all the possible shades of colours and all the varieties that exist (Rome's Tulipark hosts more than a hundred), allows you to live an experience that teaches you how to re-shape your hands and the manual dexterity of gestures, both to children and to adults.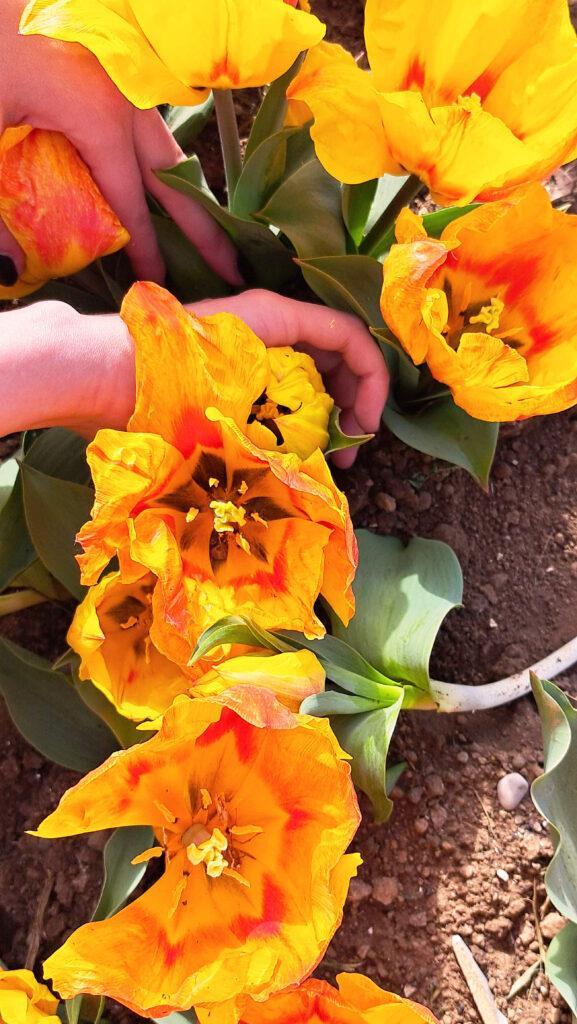 An evocative carpet of multiform flowers
I had no idea there were so many types of tulips, many with unexpected characteristics. One variety, for example, has almost frayed edges, or another has so many petals that it doesn't even look like a tulip, or yet another resembles giant poppies.
And everyday life does not allow discovering this in other ways. That's another merit of the Tulipark: it prompts one to pay attention to all those flowers flowing under one's feet, to find among thousands of tulips those nine that I would take with me. Returning home with eyes full of all this beauty gives the proper charge to face the new week full of new stimuli and energy.
Discovering Holland in Rome
The Tulipark is a tribute to Holland and to the so iconic cultivation of these flowers, a symbol of the entrance of spring. The park is decorated with all the typical elements of the Netherlands, which provide a backdrop for original souvenir photos: in the centre of the park is a scale reproduction of windmills and further on is a yellow plinth typical of Dutch peasant women.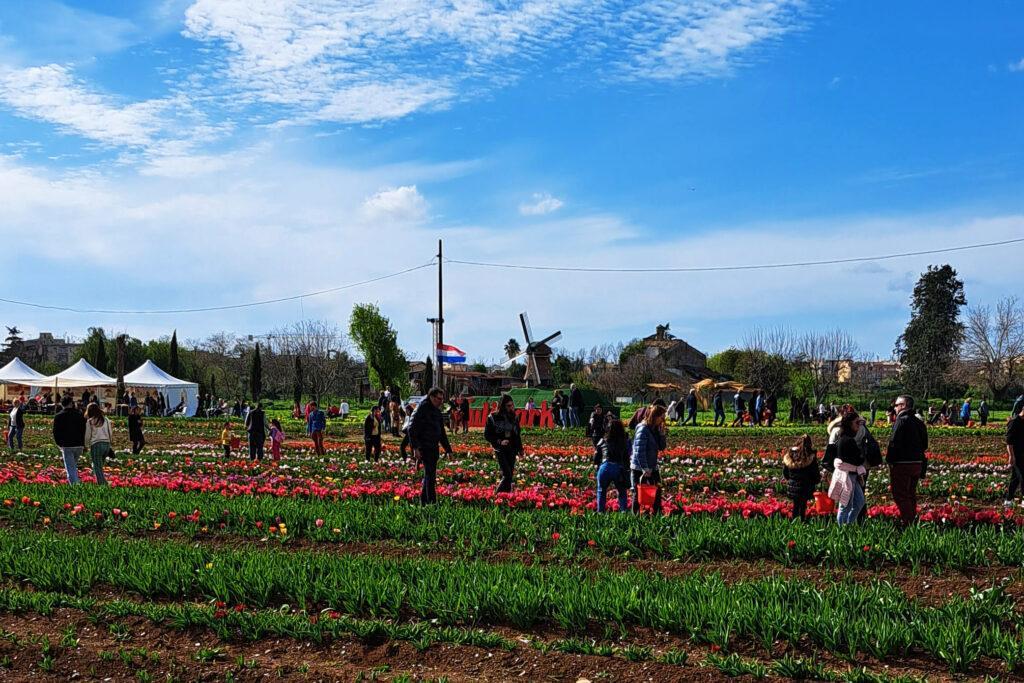 However, in the park, there are information points that tell the story of these flowers and how they became the symbol of a nation and – surprise! – the first piece of news is that tulips are not native to Holland!
It was, in fact, the botanist Carolus Clusius who imported them from Turkey in the 16th century, fascinated by this flower's peculiar colours and shapes.
Moreover, inside, you can find stands offering snacks of typical Dutch food, so you can also solve the doubt of where to go for lunch at the weekend.
In short, Tulipark is a perfect solution if you are looking for a different activity to do on the weekend without leaving the capital.
But Tulipark is also open in Bologna and Spoleto!
Spring has just begun, and it is good not to miss a moment to appreciate all its nuances.