The Brunello di Montalcino from the Argiano winery (2018 vintage) has emerged as the best wine in the world 2023 for Wine Spectator, the 'world wine bible', as revealed on 10/11.
Complementing this magnificent result for Italy are two other labels:
in fifth place Taurasi 'Radici' by Mastroberardino;
in seventh place Chianti Classico Marchese Antinori.
Brunello di Montalcino was awarded this accolade for the second time in history, having already received it in 2006 with the Casanova di Neri label (2001 vintage).
Brunello di Montalcino is certainly one of the best known Italian wine labels in the world and Argiano one of the most representative wineries.
The distinctive villa dates back to the Renaissance period and was built by the Sienese Pecci family.
Today, the entire property is owned by the Brazilian financier André Santos Esteves, owner of Leblon Investiments Fund Ltd, who with a major investment has restored the Argiano winery to its original splendour.

Argiano Winery, producer of the world champion Brunello di Montalcino
The stellar quality of the 2018 Argiano Brunello di Montalcino," the US magazine cites in its presentation, "is the result of more than $10 million of investment in the estate over a decade. A sign that in the wine world, a change of ownership or stylistic paradigm can bring enormous benefits.
Argiano is an estate with 57 hectares of vineyards, of which almost 22 are destined for Brunello and 10 for Rosso di Montalcino.
Mentioned by Carducci in the late 19th century ('Mi tersi con il vin d'Argiano, il quale è buono tanto'), the estate has a wine relais in the 16th-century villa.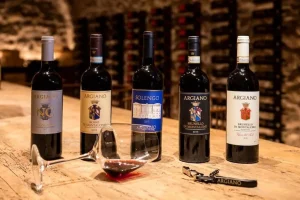 Another fact to highlight in the Wine Spectator 2023 ranking is the fifth place conquered by Radici 2016, Mastroberardino's Taurasi, the first wine from Campania and the South in the top five.
The new supremacy in Wine Spectator's Top ten is also the icing on the cake in view of Benvenuto Brunello, the annual event dedicated to the great Tuscan red wine scheduled in Montalcino from 17 to 28 November.
Brunello di Montalcino is the most sold wine in the USA, with an annual growth of 10%.
Read also Discovering Italy's 10 most famous wines