In the beautiful Palermo, the capital of Sicily, culinary art spreads through the streets, a unique gastronomic experience telling the history and tradition of a people. Street food is not just food but a heritage handed down from generation to generation. It is an authentic alchemy of flavour: you won't just stop here for a quick snack, but you will also experience a fascinating journey into the local culinary identity.
Let's start a tasty journey through the streets of Palermo, discovering Street Food roots and stories!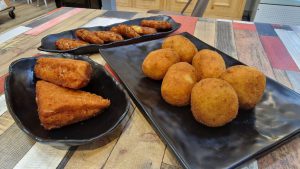 Through iconic dishes such as pane e panelle, arancina, sfincione or cannolo, you can discover an age-old history and taste ancient flavours .
If you want to savour authentic Palermo street food, you must try the offal.
 Offal is also known as the fifth quarter, not included in the four main animal cuts. In other words, we are dealing with animal innards.
Once upon a time, these parts of food were considered waste and were mainly consumed by the poorest people. Nowadays, however, innards are increasingly appreciated. Even renowned chefs reinterpret them innovatively, giving new life to tclassic recipes abandoned over time.
Nutritional values
Offal contains plenty of vitamins, proteins, glycogen, fats and minerals and is an excellent iron, zinc and copper source.
 History
Offal, namely animal entrails, have been consumed since ancient times in many cultures. Considered authentic delicacies, they were symbols of bravery. For example, the ancient Egyptians loved goose liver, the seventeenth-century French preferred entrails to steaks, and the Scots made haggis with sheep entrails.
Other cultures, such as the Turkish and the Masai tribes, also gave exceptional value to offal. The historical and cultural importance of innards and their inclusion in traditional dishes worldwide testify to their significant role in human gastronomy throughout the centuries.
Specialities you should never miss
The undisputed kings of Palermo street food are the pani ca' meusa (a sandwich with spleen inside), such as spleen and lung, and the Stigghiola, whose essential ingredients are lamb guts.
La Sicula Frattaglie
A well-established business in Palermo, La Sicula Frattaglie, owned by the D'Antoni family, has always played an essential role in offal production and distribution. Processed raw and cooked, innards are commercialised both nationally and internationally. Massimo D'Antoni, Giacomo D'Antoni's son, known in Palermo as U zù Gino, founded La Sicula Frattaglie. He has become a reference for many inhabitants of Palermo thanks to his small shop located in Via Cipressi.
The main products processed are:
Puimmuni and Meusa (lungs and spleen)
The spleen is a favourite Sicilian street food delicacy. It is often combined with beef lung and served in the middle of the famous Sicilian vastedda loaf. It is the main ingredient of Pani ca Meusa. It can be Schietta (literally single), seasoned only with lemon, or Maritata (married), seasoned with ricotta cheese and caciocavallo cheese.
Pieri (bovine legs)
Cattle or bovine legs are divided into front legs, commonly called 'calcaneus', and hind legs, called 'carcagnolo'.
 Masciddaru (jaws)
U'masciddaru is the fleshy part of the bovine jaw and is nearly always between Palermo's typical boiled meat ingredients.
Busecca (beef treep)
Tripe is an offal used in gastronomy made from cattle's stomachs.
Lingua (tongue)
Beef tongue is one of the fifth quarter's most popular and tasty cuts. The most common are veal and ox tongue. It is often cooked and served boiled, flavoured with oil and lemon.
 Quarumi (veal tripe stewed with vegetables)
Caldume, commonly called 'a quarumi' in Sicily owes its name from the pot used to cook it, a quarara'. A stew of entrails (duodenum, tripe, rectum, anus and various other calloused and fatty parts around the stomach) is served hot. A broth of carrots, celery, tomato and onions often accompanies this delicacy.
Stigghiuola r'àgnieddù (lamb guts)
Stigghiuola r'àgnieddù are a Palermo typical recipe based on lamb guts. This product has been included in the list of traditional Italian agri-food products (PAT) and the Ministry of Agricultural, Food and Forestry Policies (MIPAAF).
Sicula Frattaglie's main objective is to export and make known to the world the delicacies of traditional Sicilian cuisine, always focusing on product quality.
Il Massimo dello Street Food -Nò Figgjiu Ru' Zu' Ginu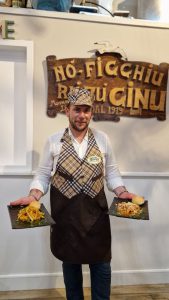 In addition to the wholesale business, Massimo D'antoni has also opened a retail outlet since 2004.
Il Massimo dello street food (Nò Figgjiu Ru' Zu' Ginu)
, a place initially about 30 square metres in size, has gained more and more space over time, also opening up to catering.
Today, thanks to the quality and passion inherited from his father, 'u Zu Ginu', Massimo has a spacious and welcoming establishment.
If you want to try a tasty and lively experience in the world of Palermo street food, we recommend a visit. It is a pleasant place where you will find quality products and the contagious energy of the staff, always available and ready to advise and explain the choices available.
The variety of food on offer is remarkable: from arancine (friedrice balls) to pani ca meusa, their centrepiece per tradition is offall.
Despite the top-quality food, the dishes are at affordable prices. Cheap offers make the restaurant even more inviting if you want to experience extraordinary gastronomy without spending lots of money.
So let's savour Massimo's specialities in his shop in Via Paruta, 5 in Palermo.
Explore the gallery for a little preview of the atmosphere you'll find at Il Massimo dello Street Food- No figghiu ru zu Gino