Travelling with pets in Italy can be a pleasant experience, but it is important to be informed about the rules and regulations governing the transport of pets in the country.
Here is some useful information for transporting our dogs:
Transport by car: If you travel by car with your pet, you must ensure that the animal is properly secured and comfortable. It is advisable to use a transport cage or an animal-specific seat belt to avoid dangerous movements while driving. Some regions of Italy may have specific rules regarding animal transport by car, so it is always good to check local regulations.
Transport by train: Italian railways, such as Trenitalia, allow the transport of small pets on board some trains. The rules may vary depending on the type of train and class of travel. Animals must be kept in appropriate cages or on a leash, and you may be required to pay an additional fare for the animal.
Transport by air: If you intend to travel with your pet by air, it is essential to check the policies of the specific airline. Some airlines allow animals to be carried in the cabin, while others require animals to travel in the cargo hold. You may be required to book in advance and pay an additional fee. Also, make sure the animal is in good health and has all required vaccinations.
Pet-friendly accommodation: Many hotels, B&Bs and accommodations in Italy are 'pet-friendly', which means that they accept pets. However, it is always advisable to check the establishment's policies regarding pets in advance and book in advance if necessary.
Local rules: Some Italian cities or regions may have specific rules regarding the transport of animals in public places. For example, some parks or monuments may restrict access to animals or require a leash.
Finally, it is essential to ensure that your pet is in good health and has all the necessary vaccinations and documents for the trip. Before leaving, it is advisable to consult your vet for specific advice on travelling with your pet.
In order to best enter the world of holidays with our four-legged friends, we interviewed Luigi Carrozzo, a Neapolitan animal lover, who will provide us with important advice:
INTERVIEW
–Hello Luigi, welcome. Would you like to introduce yourself to our readers?
My name is Luigi Carrozzo and I am an animal activist from Naples. Ever since I was a child, I have known the world of animals and learnt about their communication. For 20 years I have been running the shelter with a human face 'L' emozione non ha voce', the name of the voluntary association of which I am president.
In my shelter I rescue and take in dogs, cats, geese, ducks and chickens in distress in the area.
– How do dogs and cats experience holidays in Naples?
Dogs in Naples have many opportunities to spend nice holidays in the company of their human friend. Many dogs, with their human friends free from their work commitments, enjoy nice walks in the early morning hours on the shoreline of Via Caracciolo or Pozzuoli, or Varcaturo.
In other cases, you find them playing in the walking areas with other friends, while the humans socialise with each other.
Others take walks in Villa Floridiana or the Camaldoli Urban Park, or play in the various walking areas in the city. There are some in the Bosco di Capodimonte, but also at the Robert Baden-Powell Gardens, the Dog Park, and the Raffaele Viviani Park.
Owned cats do not take walks, but enjoy time with their human friend.
Free-roaming cats, on the other hand, are almost all looked after in the feline colonies where animal volunteers, with love and dedication, take care of them and take turns, when they are able to give themselves a holiday.
In Naples, the network of street volunteers is really close-knit and collaborative.
– What do you recommend to people who come on holiday with their dog to Naples?
A holiday in Naples really offers so many destinations to enjoy in the company of your four-legged friend. The Neapolitan people are very welcoming towards animals and, with a prior telephone contact, many facilities make themselves available to welcome our 'differently intelligent' friends. In particular, for those interested in visiting the area of the historic centre of Naples, the Bed And Breakfast Astra accepts cats and small and medium-sized dogs.
In the historic centre, you can go for lovely walks with your pet to Piazza Plebiscito in the Romantic Garden (free entrance) of the Royal Palace and socialise with dogs and Neapolitan citizens because with them you immediately become family.
Moreover, by taking the trolleybus you can explore the Bosco di Capodimonte and move about more freely in a present and well-organised exercise area, and then take a sweet break at the Stufa dei Fiori-Tisaneria in the ancient 19th-century greenhouse of the Real Bosco di Capodimonte and enjoy a good herbal tea in the company of your friend.
For those who prefer to offer their pet a family holiday, Procida has the accommodation facility "Le Querce", which has cottages with an independent, fenced-in private courtyard, where your friend can feel free to come and go for his or her needs and rest quietly while you go hiking.
For tourists who prefer a holiday in a 4-star hotel, 'La Costiera Hotel' in Marina di Varcaturo, offers a good reception and hospitality service for pets. It is also possible to spend pleasant moments with your friend in the Bird Park and visit the sites of Cuma and Pozzuoli.
In addition, during excursions, you can entrust your dog friend to a dog-loving centre. There are many in Naples and its province that offer a dog taxi service and activities, with competent and qualified educators and instructors, in the swimming pool and/or in large equipped green spaces. For cats, on the other hand, there are many Neapolitan animal lovers who have created small home oases with dedicated rooms where they can play with them.
– Are there dog-friendly beaches in and around Naples?
In the Campi Flegrei area there are lidos with Bau Beach where dogs are welcome and dog trainers are often present. In this case, my advice is to choose the right time so as not to tire your friend, i.e. prefer early morning or late afternoon.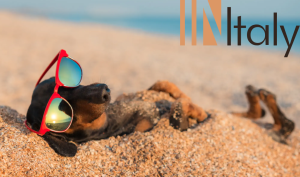 Let's discover the initiatives of other Italian regions for our dogs
There are also many initiatives organised in other regions of Italy to have our four-legged friends with us at all times.
We can start with Liguria where, thanks to facilities organised to welcome them, they allow us to enjoy the summer together with our big puppies.
In Pietra Ligure there is an equipped beach that allows access to about 20 microchipped pets for day, who in shifts of 5 at a time can enter the water (accompanied by their owners) at times ranging from 12.30 to 14.30 and from 18.30 to 20.30.
Here instead is the Bau Bau Village, this area is very well equipped, so much so that it has a play area and an Agility field.
Here, too, it is necessary to bring along your 4-legged companion's health booklet.
For more information see http://baubauvillage.it
In Alassio, there is a free beach organised and managed by ENPA.
In Tuscany, the situation is slightly different for some municipalities, as it is the municipality itself that decides which beaches can welcome animals.
In Piombino, the municipality has reserved the beaches of Sotto Macelli, Spiaggia Lunga, Golfo di Baratti, Spiaggia Bernardini and Spiaggia Perelli for pets.
For Livorno, the Feliciaio beach has been identified as an area accessible to dogs and cats.
In Cecina, the chosen areas are the free beaches of Fosso Nuovo and Le Gorette.
For Friuli-Venezia Giulia, there are two beaches most likely to welcome our furry friends:
Fido Bao Bao Beach La Playa, a beautiful facility that welcomes the furry ones and allows them to play in reserved areas.
Here too, it is necessary to have your health booklet with you.
At the Stabilimento Castelreggio it is possible to accommodate dogs for up to four at a time.
There are two facilities in Veneto that welcome dogs, albeit with some restrictions:
In Bibione there is a free beach where you can take your dog with you, but they must be kept on a leash by their owners.
Here we have the Spiaggia di Brussa beach that allows dogs, reserving areas where they can enjoy themselves.
In the Marche region, we have several beaches that allow animals.
the municipality has reserved for our dogs the Animalido, a 90-metre beach where you can bring your dogs (on a leash) and provided with a health booklet.
Access denied, however, to aggressive individuals.
Civitanova Marche (MC)
In Civitanova, totally free access is granted at the Cristallo and Lungomare Piermanni establishments and at the Gigetta and Marebello establishments.
Dogs are also allowed on the beaches of the Adriatic Riviera:
Rimini (RN)
Beach 33 is equipped to welcome dogs, but they must remain on a leash in the company of their owners.
Miramare di Rimini (RN)
Bagno 150 provides families with pets with fenced areas where they can keep their furry loved ones at a proper distance from other guests.
Lido di Spina (FE)
At Lido di Spina, it is possible to bring your pets to the beach at Baia di Maui and Bagni Trocadero, but they cannot swim with their owners.
Let us now describe some of the interesting activities you can do with your dogs in summer:
Dog Trekking
Dog trekking is one of the most exciting activities to do with your dog.
In fact, it is possible to run in the company of your dog only bound by sturdy ropes or non-extendable leashes.

Dog biking is another activity you can do with your dogs that is very interesting and, above all, very demanding for puppies.
For this reason, it is necessary to first carry out a Dog Trekking test and assess your dog's physical strength.
Furthermore, it is recommended that this activity always be carried out on grass or dirt, so as not to cause problems for the dogs' paw pads.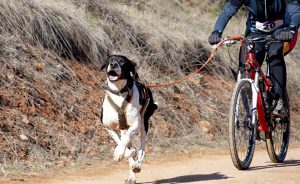 This is an important activity to increase the bond between dog and owner.
It is a route to be taken in pairs, during which exercises are to be carried out that are appropriately marked along the way.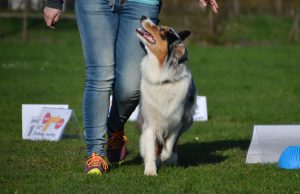 All you have to do is pack a bag, first for your dog… and then for yourself, and set off on a magical holiday!