Tom Cruise arrives in Rome with his Mission: Impossible – Dead Reckoning – Part 1.
The famous American actor's day was very rich, starting with the red carpet dedicated to the world premiere, and then continuing with the institutional meeting with Prime Minister Giorgia Meloni.
In the evening it was then the turn of the premiere of the seventh chapter of the saga, at the Auditorium Conciliazione, ending with an exclusive party at the Terrazza Caffarelli.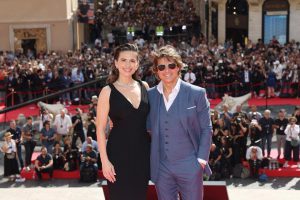 Tom Cruise was amazed by the Spanish Steps, believing that this place takes one's breath away.
That is why it was also used as the iconic location for the afternoon photocall.
Then he added: 'It is a dream come true: it was incredible to shoot here, I want to thank everyone in this country – in Rome and Venice – who helped us to shoot in a very difficult context. I want you to know how much we appreciated it. We take nothing for granted".
Tom Cruise in this chapter will again play the role of secret agent Ethan Hunt and will be in search of a lethal weapon.
The actor was genuinely thrilled by what happened during filming, and especially by everything that was on the set: "The action scenes are more extreme than in all the other episodes, the locations are incredible, the characters are very much alive and the stories full of emotion, but also full of funny situations like the ones that happen here where we are," says Cruise referring to the scenes shot in the Capital.
Mission: Impossible – Dead Reckoning – Part 1 has to be a film to be watched at the cinema: both in terms of visuals and sound, it is the only perfect place to fully appreciate the work realised.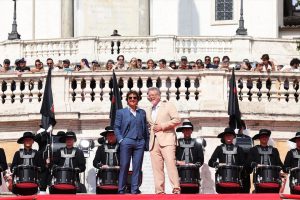 The cast of Mission: Impossible – Dead Reckoning – Part 1:
The stellar cast will feature: Hayley Atwell, Ving Rhames, Simon Pegg, Rebecca Ferguson, Vanessa Kirby, Henry Czerny, Esai Morales, Frederick Schmidt, Shea Whigham and many more.
It is directed by Oscar winner Christopher McQuarrie, who had already directed the last two chapters of the saga.
DISCOVER THE CITY OF ROME WITH US:https://in-italy.eu/in-tavola/12-rooftop-per-un-aperitivo-a-roma/
foto credits profilo instagram Tom Cruise