3 unusual places for a weekend? How to find them in Italy…? Italy – you know – is rich. It is rich in history and stories, it is rich in art, it is rich in cultures, it is rich in landscapes. Italy abounds in beauty, in places that are famous and loved worldwide. However, there are less-travelled locations or unique, lesser-known places that can attract attention for the surprise and novelty they offer. For the upcoming summer, we propose a few tidbits so that you can plan an incredible and magical weekend in the Bel Paese. There are three places, one for each geographical band into which the Italian peninsula is divided: south, centre and north.
Wabi Sabi Culture: a weekend between nature and meditation
A corner of Japan in the Marche. In San Ginesio, a village in the province of Macerata, 'Wabi Sabi Culture' has sprung up. Far from the noise of the streets and the centre of the town is this place that is a centre of Japanese culture that offers moments of research and meditation – even guided ones, if you wish – and a ryokan where you can spend a truly unique couple of days.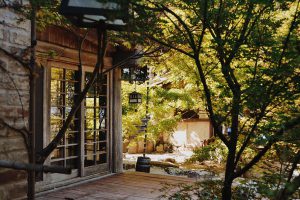 The ryokan, the inn
The ryokan is a Japanese inn where you enter without shoes and has a tatami on its floor, i.e. square wooden panels placed side by side, and as its bed, the futon, a cotton mattress that rests on the floor. The place also offers the Okoro, i.e. a bath in a wooden tub from Japan with aromatherapy. In addition, there is a Buddhist temple and rooms for the tea ceremony.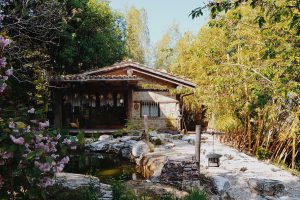 Karensasui, the garden
Two years ago, Karesansui was inaugurated, Europe's first rock landscape, a garden in which to meditate, whose materials are black and white granite – representing yin and yang – and monoliths of serpentine, a stone that wards off negativity.
A place of peace
A place of peace, Wabi Sabi Culture, makes the search for and experience of peace through the spaces and products it offers its connotative element.
If you have a desire, or an intimate longing, for slowness, for space, for indulging in an inner rhythm uniquely yours, this is the place for you.
Lake Laceno: a weekend of nature, sport, fun
Moving south, a weekend in the mountains is worth mentioning. In the province of Avellino, at an altitude of over 1,000 metres, there is a place much loved by people from Irpinia and the rest of Campania: Laceno. It falls within the territory of the municipality of Bagnoli Irpino and is part of the Picentini Mountains. It is known for its lake, so much so that in Avellino and Irpinia, people say: 'I go to Laceno Lake'. There are mountains, forests, and magnificent streams.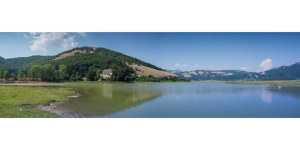 Trekking
While skiing is offered in winter, trekking is organised in summer, there are picnic areas where you can stay the night with a tent, and there is a playground for small children called Lacenolandia.
As for trekking, there are accessible routes for beginners and combinations with walking traverses, mountain bike circuits and horseback excursions, also lasting several days, stopping off at the plains present. The hilly routes are the most linear and least difficult, with few differences in altitude and at low altitudes, and unfold among chestnut groves and other crops. The river routes ascend valleys, showing clear streams and unknown and hardly accessible gorges. The ascents to the peaks are reasonably tricky and require experience and training. Cervialto (1809 m) and Rajamagra (1667 m) are the highest peaks. These rounded reliefs are covered by a flourishing beech forest, which makes only the summit visible.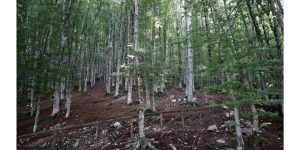 Picnics and other attractions
Four picnic areas are equipped with tables, wooden benches, barbecues, running water and free parking. But there is something for everyone: you can go horse riding, go-karting and rent quad bikes.
Lacenolandia
Established in 1996, Lacenolandia is a playground of rare beauty, set in magical mountain nature—the ideal place for relaxation and fun in a healthy environment.
The Laceno Museum
For some years now, Laceno has also been home to the Laceno Museum: Nature and History, which houses exhibit by the Bagnolese painter Michele Lenzi, the photographer Michele Capozzi, the founder of the 'Laceno d'Oro' international film festival, Tommaso Aulisa, and the Avellina-born Giovanni Sica, a master of iron, a multifaceted artist of international renown.
Horse riding and trekking
At the foot of Mount Rajamagra, the riding school 'Il piccolo ranch' offers the possibility of horse riding and trekking, even for more than one day, with overnight stays in tents. For girls and boys, there are ponies!
Laceno offers, at attractive prices, in a place of silent enchantment, many possible activities, including admiring such beauty.
Dozza: a weekend among nature, architecture and painting
The Rocca Sforzesca
In the Imola hills, about 200 metres above sea level, heading north lies the town of Dozza. Dozza is surrounded by great vineyards that already had a taste of Romagna and embellished by a fortress built in 1250 by the Bolognese, who had conquered the village in 1086 after it had been under the influence of Gauls, Romans, Lombards and Byzantines. The fortress then took on the defining adjective 'sforzesca' in homage to the rule of Caterina Sforza at the end of the 15th century, who had it extensively restored and had the moat and towers added.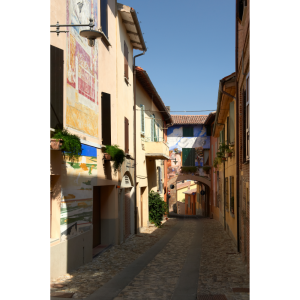 The murales
However, the peculiarity of this place is the presence of colourful murals throughout the centre. Since 1960, the municipality of Dozza has participated in the Biennial Biennial Exhibition of Painted Wall Art, and the streets are full of murals. For this reason, as in Sardinia, a land now known for its muralism, Dozza has become a destination for visits by people seeking beauty for the eyes.
The Regional Enoteca of Emilia-Romagna
Lastly, it should be added that the Enoteca Regionale dell'Emilia-Romagna is located here. It is another compelling reason to visit this cosy village where past and present, architecture and painting, nature and taste, come together in harmony.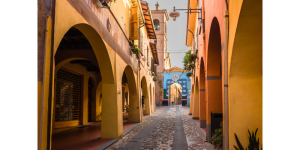 Discovering unusual places!
All you have left to do now, starting from these three possible suggestions, is to leave the usual, solid and known routes for a moment and venture out to explore the unusual, the remote, the unregulated, the peripheral, and the inland, which will give you surprises and emotions that are probably unimaginable!